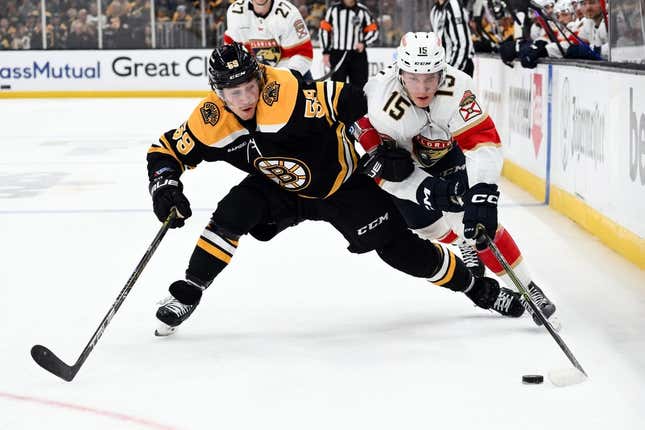 The Presidents' Trophy-winning Boston Bruins have taken the first step towards their ultimate goal of a Stanley Cup
Next comes trying to gain separation from the Florida Panthers in their Eastern Conference first-round series. The teams play Wednesday night in Boston before the scene shifts down to Sunrise, Fla., for Games 3 and 4
Even without captain Patrice Bergeron, the Bruins gained the upper hand with Monday's 3-1, series-opening win, but coach Jim Montgomery knows his team can give even more after getting its first taste of the high intensity of playoff hockey
"Results matter more than the process right now," Montgomery said. "The result was really good. I think the result comes from -- we had some players play really well, especially our goaltender (Linus Ullmark). ... The intensity of the playoffs surprised us a little, and I think we had a little bit of nerves."
Relying on a deep roster and stellar goaltending, the Bruins weathered the tight start, separated the score with a two-goal second period and shut the door in the third
"It's the same as it's been all year -- knowing that we trust in our depth and in each other that whoever's going out there is going to get the job done," defenseman Charlie McAvoy said. "We believe in one another, and we believe that whoever it is, they're going to help pull their weight."
Brad Marchand became just the second-ever Bruin to score 50 career postseason goals, while Tyler Bertuzzi (two assists) -- a midseason newcomer who is "made for the playoffs," Montgomery said -- became the oldest Boston player to record multiple points in his first career playoff game.
Ullmark made 31 saves en route to his first-ever win in the Stanley Cup playoffs.
As of Tuesday, Bergeron was being listed as "questionable" for Game 2 due to illness and an upper-body injury. The Boston captain was around the team before and throughout Monday's game.
"He doesn't get rattled by anything," Montgomery said of Bergeron. "He promotes positivity and cool, calm, confidence that I think permeates through the group."
Even with two-time Vezina Trophy winning-goaltender Sergei Bobrovsky (last played March 27 before an illness) on the roster, the Panthers have every reason to be confident in Alex Lyon after his opening performance
Coach Paul Maurice has not named a Game 2 starter, but Lyon did everything he could to keep the net. Several of his 26 saves were on odd-man rushes against the potent Boston offense.
"(Lyon) was just so good," said Maurice, who has led Florida to a franchise-record fourth straight playoff appearance. "That's the game he's played for us since he's come in. His timing on those 2-on-1 plays and his reads have just been fantastic."
The Panthers are confident that their game can translate to wins if they can stay out of the penalty box as the series continues. After all, they were only one of two teams to beat the Bruins multiple times during the regular season
Florida held a 32-29 shot advantage, but Boston converted on the second of two first-period power plays to start the scoring and closed the game down by allowing only nine triggers in the final frame.
After scoring on the power play in 13 of their final 17 games, the Panthers were held off the board Monday
"I'm confident in our team and in our game," said forward Matthew Tkachuk, who scored the lone Florida goal. "I've seen a lot of things, and I think we can hang with these guys. I was happy with some parts of our game, and others we can definitely work on."
--Field Level Media