So as we finally cruise to an end of a seemingly endless Super Bowl Week — when people somehow care more about the Joey Porter prattle than they do whether or not Troy Polamalu is hurt — we look back at, yes, the Ben Roethlisberger photos. The photos have been the talk of Pittsburgh radio stations all week, and even Dan Patrick mentioned them at one point, in between bites of a sandwich. But the silence among media throng in Detroit has been palpable.
It was almost not like this. Wednesday afternoon, WTAE-TV in Pittsburgh, after an interview with your humble editor, posted a story on their Web site called "'Drink Like A Champion': The Big Ben Photo Connection." Within an hour, the story — along with the pictures — were picked up by the Drudge Report. Look, we have proof.
The story was on the Drudge front page for about half an hour before, inexplicably, WTAE took it off their Web site. (The link was originally here; you can find it in the Google News cache here.) The story is now nowhere to be found. Once they did that, Drudge also took it down, because — get this — Drudge has an insane policy of not linking to blogs, which is like a television remote that doesn't allow you to switch channels.
G/O Media may get a commission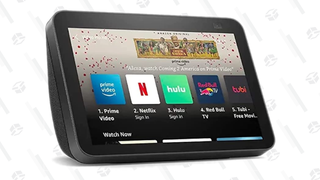 When we emailed Gus Rosendale, the reporter who interviewed us for the story, he said, "Turns out they decided not to run it, Thanks for all your help, anyway." Since we had seen the story, we knew this wasn't true, so we pushed further. We received a response from (a most helpful) news editor Bob Longo, who said it was an editorial decision not to run the story. We sent him the Google news cache page and the Drudge item and had the following exchange:
Deadspin: So the thing is, it certainly seems like you DID decide to run it ... until people actually started seeing it, at which time you took it down, for whatever reason. Would that be an accurate statement?
Longo: That is accurate.
Longo emphasized that he was not pressured to drop the story, and we believe him. But when you include what another Pittsburgh reporter who had been planning a story on the photos told us, it starts to look strange: "We got shut down by management regarding the story. Apparently, there's concern that our [elderly] owner may frown on our quarterback slugging tequila with bar whores while brandishing the face of a Don Martin cartoon."
So, alas, the story remains an "Internet phenomenon," one of those stories that people like Jay Mariotti can say exist only on the "Wild West of the Web." (There were a few exceptions.) But hey, we all got to see the pictures, and it was rather impossible not to enjoy them. And we know a lot of people are going to be watching Big Ben with big goofy smiles on their faces Sunday.
And hell, some people even made whole videos of the pictures. (And they kind of made "Cold Pizza." That's fun.
It's Good To Be Big Ben [Deadspin]
Quarterbacks Gone Wild [Attack Of The Show]
Players Just A Click From A Web Of Woe [Jacksonville.com]
Google News Cache [Google News]