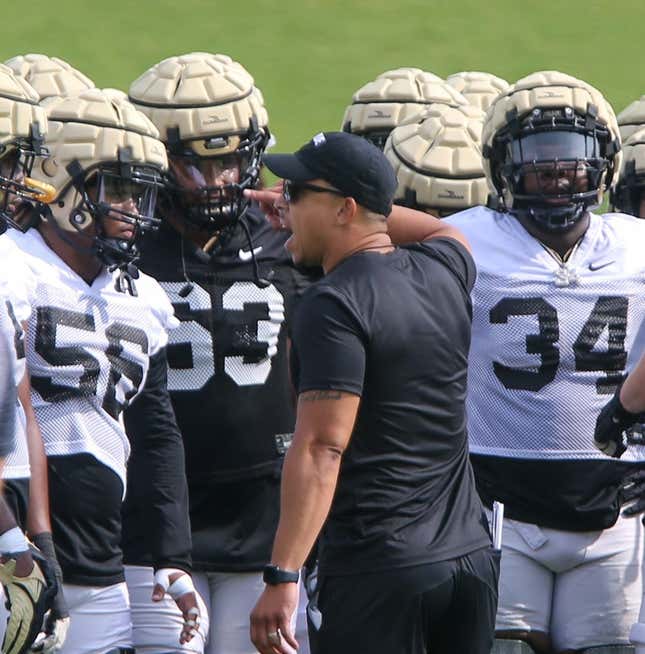 For Fresno State, it's a chance to build on the history it made last year.
For Purdue, it's a chance to start the Ryan Walters era with a splash.
When the Bulldogs visit West Lafayette, Ind., on Saturday for a matchup with the Boilermakers, they'll try to extend the third-longest active winning streak in FBS. After starting 1-4 last year, Fresno State ripped off nine straight wins, claiming the Mountain West Conference title and winning the LA Bowl to cap a 10-4 season.
How running an NFL team is like running a restaurant | Chef Emeril Lagasse
"Tells you how tough they are, how together they are in that building," Walters said of the Bulldogs. "It'll be a challenge."
How much of a challenge depends on how new faces respond to bigger roles. Fresno State lost its top passer (Jake Haener), top runner (Jordan Mims) and top three receivers (Jalen Moreno-Cropper, Nikko Remigio and Zane Pope). Mims' 1,372 yards made him the first Bulldog to pass 1,000 yards in eight years.
UCF transfer Mikey Keene earned the starting job at quarterback, beating out Logan Fife, Joshua Wood and freshman Jayden Mandal. Keene started 10 games as a freshman for the Knights in 2021, completing 63.6 percent of his passes for 1,730 yards with 17 touchdowns and six interceptions.
"Mikey is going to start but we're very fortunate to have a really good quarterback room," Fresno State coach Jeff Tedford said.
Identifying a new quarterback has also been a top priority during the preseason at Purdue, which reached the Big Ten title game last year behind Aidan O'Connell. O'Connell threw for 3,490 yards and 22 touchdowns, connecting 110 times with top receiver Charlie Jones.
Texas transfer Hudson Card, who played in 20 games and started five the past two years with the Longhorns, has won the job. Card has thrown 11 touchdowns and only two interceptions in 194 career attempts, rolling up 303 yards and three scores last year in a win over West Virginia.
This will be the first meeting of the Bulldogs and Boilermakers.
—Field Level Media