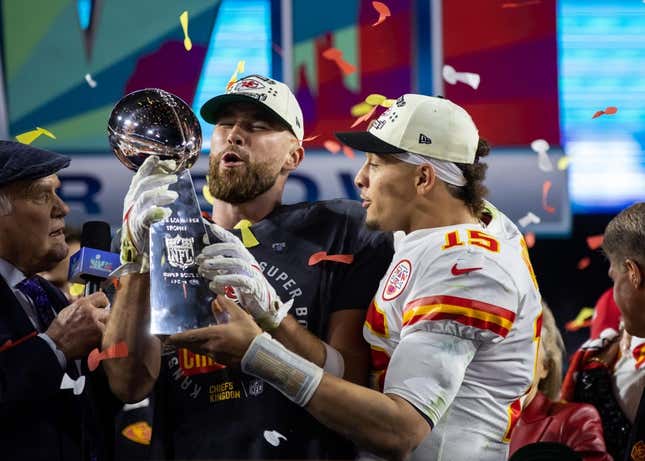 Kansas City Chiefs tight end Travis Kelce came to the defense of Patrick Mahomes after he felt his quarterback was disrespected by Cincinnati Bengals wide receiver Ja'Marr Chase
How running an NFL team is like running a restaurant | Chef Emeril Lagasse
Kelce said he understood Chase taking up for his own quarterback Joe Burrow when asked to name the best player in the NFL. Kelce, however, took issue with the wideout's "Pat who?" comment this week on his "New Heights" podcast that he co-hosts with his brother, Philadelphia Eagles center Jason Kelce.
"I thought it was a little bold," Travis Kelce said. "(Mahomes) is a two-time league MVP, two-time Super Bowl MVP. To say 'Pat who?' is like I don't know."
"(A) little disrespectful," Jason Kelce said.
"It is what it is, dog. Who doesn't love some good locker room banter, man?" Travis Kelce said. "Shoutout to Ja'Marr Chase for holding it down for his QB, but don't you ever disrespect Pat Mahomes, now. If you wanna talk your (expletive), talk your (expletive), pimp. Just better back it up."
Mahomes took to social media recently to tweet a picture of himself wearing two Super Bowl rings at the Chiefs' ring ceremony on June 15. He answered Chase's "question" in his own way: "That's who.
Burrow, 26, was an NFL MVP finalist last season after throwing for a franchise-record 35 touchdowns. Chase, 23, caught 87 passes for 1,046 yards and nine touchdowns.
Mahomes, 27, led the NFL in passing yards (5,250) and touchdowns (41) last season. He also got the better of Burrow and the Bengals in the AFC Championship Game before leading the Chiefs to a 38-35 win over the Eagles in Super Bowl LVII
--Field Level Media