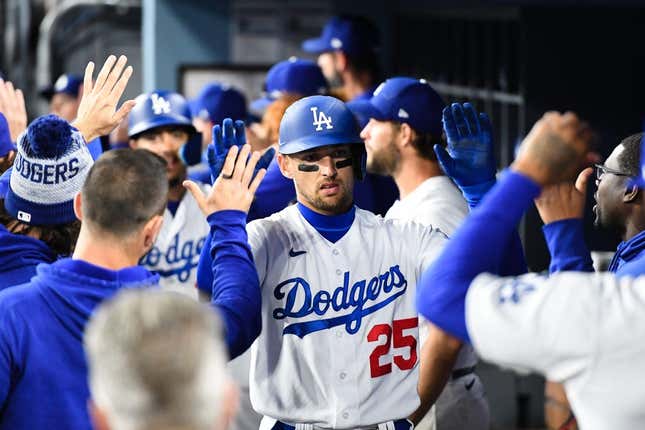 Trayce Thompson was a showstopper in his first appearance of the season. He again will be in the lineup on Sunday when the Los Angeles Dodgers close a four-game series against the visiting Arizona Diamondbacks
Aaron Rodgers should go full Joe Namath | Comedian Bert Kreischer
Thompson established career highs of three home runs and eight RBIs in Saturday's 10-1 drubbing of the Diamondbacks. The power display in his first game of the season erased any chance of the right-handed-hitting Thompson sitting against Arizona righty Zach Davies
"I've developed a new three-homer rule," Dodgers manager Dave Roberts said. "So if you hit three homers, you play the next day.
Thompson's second career multi-homer game consisted of a grand slam in the first inning, a three-run blast in the fifth and a solo shot in the eighth. He is the first Dodgers' batter to record three homers in a game since Mookie Betts on Aug. 13, 2020 against the San Diego Padres
The 32-year-old journeyman was pretty subdued while discussing what was certainly the top game of his career.
"I just got some good pitches to hit," Thompson said. "It's pretty simple. Hitting is contagious with this group. Pretty simple, though. I got some good pitches to hit and didn't miss any."
Thompson entered the game with 39 career homers, including 13 in 74 games for the Dodgers last season. He will eventually settle into the rhythm of starting against left-handers and sitting against most right-handers
But on Sunday against the Diamondbacks, Roberts said Betts will start at second base to open a spot for Thompson in the outfield
"What a special night. I couldn't be more happy for Trayce," Roberts said. "To carry us and hit three home runs, that's something that's unforgettable. ... He understands his role on the team. Obviously, he clearly shows he can hit right-handed pitching."
It doesn't hurt that Thompson is 3-for-8 with two homers in his career against Davies.
Thompson's splurge helped Los Angeles win for the second time in three days against Arizona. The Dodgers have outscored the Diamondbacks 19-5 in the series
That continues Los Angeles' recent dominance of their National League West rivals. The Dodgers are 40-11 against Arizona since the start of the 2020 season
Diamondbacks first baseman Christian Walker had two of his team's five hits, including a solo homer. It was his fifth career blast off Dodgers icon Clayton Kershaw and his 18th overall against Los Angeles
But the Arizona bats have been shaky, and the team has yet to score more than two runs in any game.
"It just feels like myself and the lineup in general may be pressing a bit too much," Diamondbacks third baseman Evan Longoria said. "Everybody wants to get off to a good start. It's hard when you don't. When you don't get a hit in the first couple of games, you feel the 0-fers are mounting up and there's pressure that comes with that. I think everybody understands that. We just need to have a good game.
Davies, 30, is 4-5 with a 3.16 ERA in 14 career starts against Los Angeles. He has a stellar 2.20 ERA in seven starts at Dodger Stadium while compiling a 3-2 mark.
Will Smith (5-for-15) also has smacked two homers off Davies.
Davies made 27 starts last season for Arizona but was just 2-5 with a 4.09 ERA.
Right-hander Noah Syndergaard is making his first start as a member of the Dodgers
Syndergaard, 30, split last season between the Los Angeles Angels and Philadelphia Phillies and went 10-10 with a 3.94 ERA in 25 appearances (24 starts).
Syndergaard had 95 strikeouts in 134 2/3 innings last season and is no longer the power pitcher that he was when he first reached the majors with the New York Mets in 2015. He fanned over 150 batters in each of his first four full major league campaigns.
Syndergaard is 3-1 with a 2.45 ERA in four career starts versus the Diamondbacks
--Field Level Media