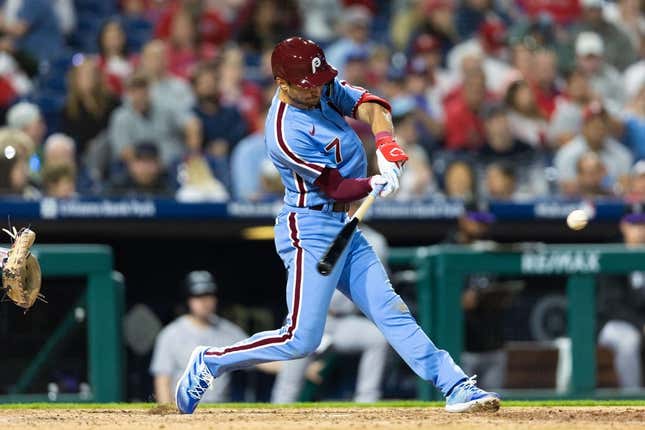 After winning three of four games against the Colorado Rockies last weekend, the Philadelphia Phillies saw their offense take a step backward in the series opener against the Seattle Mariners on Tuesday
'Soccer fandom is full of gatekeepers' says Ted Lasso actor Brendan Hunt
Following the 5-3 loss, the Phillies will look to even the series when they host the Mariners again on Wednesday
Philadelphia's top three hitters -- Bryson Stott, Trea Turner and Kyle Schwarber -- went 1-for-11 with one run and five strikeouts in the Tuesday defeat. The Phillies went 2-for-7 with runners in scoring position and left seven on base
Turner finished 0-for-4 with three strikeouts.
"Not getting much to hit and I'm trying to do too much," said Turner, who signed an 11-year, $300 million contract in the offseason. "It feels like it's a bit of a battle."
One bright spot for the Phillies was the continued solid play of Cristian Pache, who had two hits and made a couple of stellar plays in left field
"He's been playing great," Philadelphia manager Rob Thomson said. "He's hitting left-handed pitching. He's been working hard with (hitting coach) Kevin Long and seeing results."
Phillies center fielder Brandon Marsh singled in the seventh inning to extend his streak of reaching base to 20 games
The Phillies will hand the ball on Wednesday to Taijuan Walker (2-1, 3.80 ERA). In his latest start, Walker gave up five hits and two runs in 6 1/3 innings during a win over the Chicago White Sox on April 19
If Walker needs to come out of the game, he has plenty of confidence in the team's relief corps.
"We have a really good bullpen," Walker said after his April 19 outing. "As starters keep going deeper into games, they'll have more rest and they'll be able to come in when they need to come in, instead of coming in early in the games."
Walker has never faced Seattle, one of his former teams.
The Mariners will look for their second straight win to begin a nine-game journey away from home
"Great way to start the trip," Seattle manager Scott Servais said.
Teoscar Hernandez hit his third home run in the past four games. Jarred Kelenic also stayed red hot, going 3-for-4 and socking his third home run in as many games.
"Jarred's in such a good spot," Servais said. "It doesn't matter who's out on the mound right now. He's so locked in. Love where he's at."
Former Phillies first-round draft pick J.P. Crawford added an RBI single. Eugenio Suarez doubled in the sixth inning and has now reached base in a career-best 20 straight games dating back to April 2
Logan Gilbert, who was originally scheduled to start for Seattle on Tuesday, was bumped back one day because of some reported tightness in his shoulder.
Gilbert (1-1, 3.57) lost his lone career start against the Phillies. He gave up four runs on three hits and three walks, with nine strikeouts, in five innings on May 11, 2022
In Gilbert's latest start, against the Milwaukee Brewers on April 18, he yielded five hits and four runs, with eight strikeouts and no walks, in six innings.
"A couple of mistakes for sure to a couple of their good batters," Gilbert said. "Things you can't do. I've got to put them in better spots."
--Field Level Media