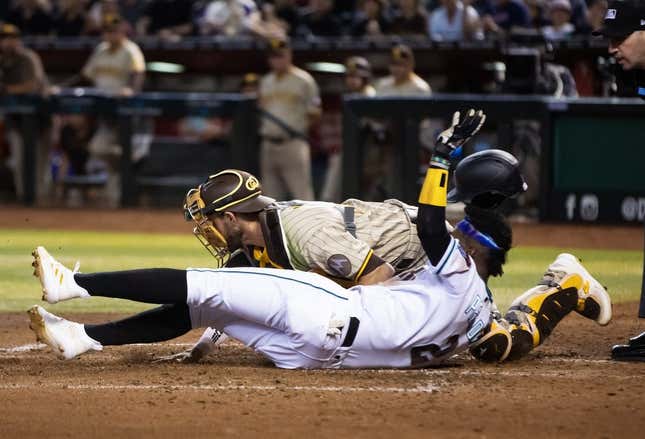 Trent Grisham drove in four runs with a pair of doubles and Xander Bogaerts and Matt Carpenter homered as the visiting San Diego Padres defeated the Arizona Diamondbacks 7-5 on Thursday night
'Soccer fandom is full of gatekeepers' says Ted Lasso actor Brendan Hunt
The Padres' Fernando Tatis Jr. went 0-for-5 with a pair of strikeouts in his return from an 80-game PED suspension. It was Tatis' first major league game since the end of the 2021 season
Grisham's second double, off Diamondbacks reliever Kyle Nelson, snapped a 5-5 tie in the top of the sixth
The Padres took a 2-0 lead in the second inning. Following back-to-back walks to Jake Cronenworth and Carpenter, Grisham pulled a line-drive double to right-center field with two outs
In the third, Bogaerts hit his fifth homer of the season following a walk drawn by Juan Soto. Carpenter's second homer of the season, leading off the fourth, made it 5-1.
Arizona starter Ryne Nelson gave up five runs on just three hits and three walks, with four strikeouts, in five innings. Padres starter Michael Wacha was equally ineffective, giving up five runs on 10 hits and a walk, with three strikeouts, in four innings
The Diamondbacks got on the board in the second, scoring on a double by Alek Thomas and a two-out triple by Geraldo Perdomo
They tied the game with four runs in the bottom of the fourth -- a rally started on singles by Thomas and Perdomo. Josh Rojas followed with a two-run single and scored on Lourdes Gurriel's ground-rule double to make it 5-4. Gurriel came around from second on two wild pitches by Wacha.
The Padres' decisive runs off Kyle Nelson were unearned. Bogaerts opened the sixth with a single but reached second when Arizona shortstop Nick Ahmed booted pinch-hitter Nelson Cruz's potential inning-ending double-play grounder. Grisham then doubled over the head of center fielder Thomas
Brent Honeywell (2-0) worked two scoreless innings to earn the win. Josh Hader got his sixth save as Padres relievers retired 12 straight Diamondbacks to end the game. Nelson (3-1) took the loss
--Field Level Media