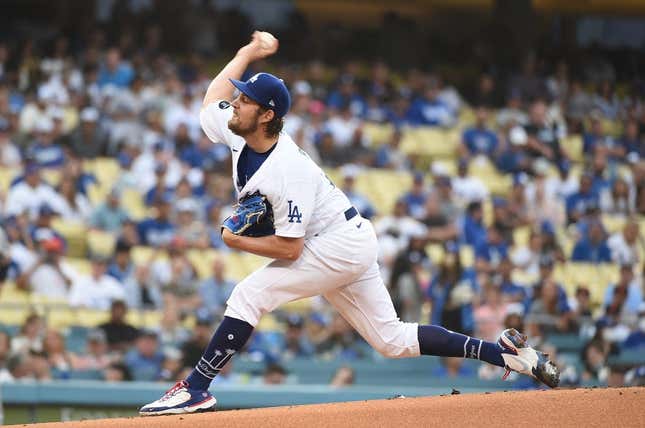 Another woman has accused former major league pitcher Trevor Bauer of sexually assaulting her and choking her to the point of unconsciousness, allegations he denies.
How running an NFL team is like running a restaurant | Chef Emeril Lagasse
The woman filed a civil suit against him in December 2022, but it has just become public knowledge. Bauer has countersued.
In the filing, the woman says Bauer, 32, held a steak knife to her throat while they were watching television and, two days later, raped her during an encounter in Arizona in December 2020, according to USA Today. She said it resulted in a pregnancy but she subsequently had a miscarriage.
She is seeking $3.7 million and an apology for herself and other women he has "sexually humiliated and abused against their consent," per the filing. She is at least the fourth woman to allege that Bauer committed sexual improprieties.
Bauer, in his countersuit, accuses the woman in the Arizona case of extortion, fraud and fabricating the pregnancy.
Per USA Today, Bauer admits to having consensual sex with the woman that December, after which she said she was pregnant and told him she would have an abortion for $1.6 million. In court documents, his attorney said Bauer has her demand on tape.
Bauer, a former National League Cy Young Award winner, was pitching for the Los Angeles Dodgers in June 2021 when a Southern California woman accused him of sexually assaulting her, choking her and causing physical injuries in their two encounters.
He was suspended by the Dodgers, and following an investigation, he was suspended for a record 194 games under MLB's sexual assault and domestic abuse policy. Once reinstated, the Dodgers released him with one year left on his three-year $102 million deal and no MLB team signed him as a free agent.
In that case, prosecutors in Los Angeles County declined to file charges. Two Ohio women later told The Washington Post that Bauer had assaulted them, too.
USA Today reported that in the Arizona case, police in Scottsdale took a report in December 2020 that accused Bauer of sexual assault but the case is in the inactive file.
Bauer has not been arrested or faced charges in any of these alleged assaults.
He now is pitching in Japan.
--Field Level Media