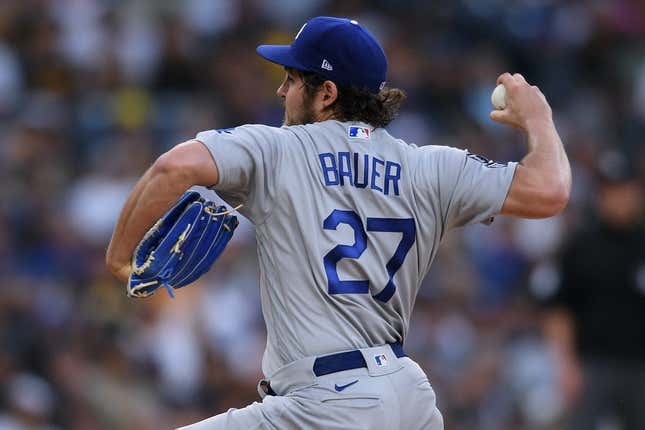 Former Cy Young Award winner Trevor Bauer made his Japanese baseball debut on Sunday, pitching his first competitive game in nearly two years.
Does Jimmy Butler have the best NBA Finals origin story? | Agree to Disagree
Ignored by Major League Baseball teams following a lengthy suspension over domestic violence allegations, the 32-year-old right-hander signed a reported $4 million deal last month with the Yokohama DeNA BayStars of Japan's Nippon Professional Baseball League.
On Sunday, Bauer allowed four hits and no runs and struck out six in four innings while pitching for Yokohama's minor league affiliate in Yokosuka.
At a ballpark that typically draws a few hundred spectators, about 2,600 fans were in attendance, according to The Associated Press. Another 77,000 streamed the game -- 15 times the normal level, according to the team.
"I thought the day went really well," Bauer said, per the AP. "The stuff was good, the command was good, the health was good. I feel like I'm ready to compete now, but I have to build my pitch count."
Bauer last pitched in the majors on June 28, 2021, before allegations of sexual assault surfaced. He was placed on paid leave amid an MLB investigation and ultimately received a record suspension for violating the league's domestic violence policy.
Following the investigation, MLB commissioner Rob Manfred suspended Bauer for two full seasons last April over allegations made by a woman who claimed Bauer sexually assaulted her over two encounters. Los Angeles County prosecutors declined to file charges in the case.
On Dec. 22 a neutral arbitrator reinstated Bauer, reducing his punishment from 324 games to 194 -- covering 144 games he was suspended for in 2022 and another 50 games of docked pay this coming season. Bauer was eligible to pitch immediately in 2023.
Bauer was granted his unconditional release by the Los Angeles Dodgers on Jan. 12 after clearing waivers. He had signed a three-year, $102 million contract with the Dodgers after winning the 2020 National League Cy Young with the Cincinnati Reds.
Bauer said he felt comfortable Sunday despite the long layoff, per AP.
"I've stayed ready," Bauer said. "I didn't feel like I'd been away at all. The game came to me well. It didn't speed up on me. I commanded the ball. There really wasn't any adjustment. Just competitive baseball instead of throwing to hitters in a cage."
Bauer also thanked the fans via his Twitter account:
"The fan support today was incredible! Thank you to everyone who showed up and to the 77,000+ who watched on YouTube!"
--Field Level Media