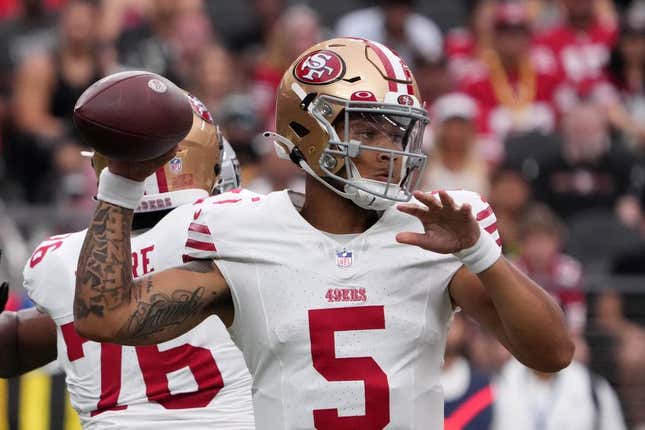 Trey Lance's immediate future with the San Francisco 49ers became one of the hottest topics in the NFL after coach Kyle Shanahan announced that Sam Darnold won the backup quarterback job behind Brock Purdy.
How running an NFL team is like running a restaurant | Chef Emeril Lagasse
Lance took a day away from the team after being told of the news. And while general manager John Lynch said Thursday that the "most likely option" is that the former No. 3 over pick remains with the 49ers, that could just be an effort to maintain some trade value.
What Lance would command in a trade has been the subject of much debate throughout the offseason. The 49ers did not deal him during the NFL draft, but his potential value now has not been helped by uneven preseason outings.
Lynch did say that he would not turn a blind eye to a trade the could benefit all parties, and SportsBetting.ag is offering odds on eight potential NFL destinations should Lance be dealt.
Trey Lance Next Team Odds:
Minnesota Vikings (+300)
Atlanta Falcons (+400)
Los Angeles Rams (+400)
Miami Dolphins (+500)
Tampa Bay Buccaneers (+600)
Las Vegas Raiders (+900)
Green Bay Packers (+1200)
Pittsburgh Steelers (+1200)
The Vikings present an interesting potential landing spot for Lance. Kirk Cousins signed a one-year, $35 million contract and at age 35, he may be in his final season in Minnesota.
The only other quarterbacks on the roster are journeyman Nick Mullens, fifth-round pick Jaren Hall and recently signed Jordan Ta'amu. Adding a talented but untested Lance, who is still only 23, could be a low-cost flier for the Vikings with a potential big-time reward.
The Falcons are turning the reins of the offense over to 2022 third-round pick Desmond Ridder, who flashed potential while starting the final four games last season. However, he has still thrown only 115 regular-season passes. Backup Taylor Heinicke is a solid safety net should Ridder flop out of the gate, but he's not a long-term solution for the franchise, making Atlanta another candidate to take a low-risk bet on a talent like Lance.
The Rams could be at a crossroads depending on how this season goes. Matthew Stafford is 35 and coming off a season shortened by injury. He has three years remaining on his contract, but is due to count an average of $50 million against the salary cap in 2025 and '26.
Los Angeles spent a fourth-round pick on former Georgia quarterback Stetson Bennett in the 2023 draft and has veteran Brett Rypien to plug an immediate gap if necessary. Depending on the Rams' feeling about Bennett following the offseason program and preseason slate, Lance could be of interest to a team that values athleticism.
But would Lynch really deal a high-pick bust with the possibility of Lance flourishing into a star for a division rival?
Another interesting team on the list is the Dolphins. Tua Tagovailoa was putting up MVP-caliber numbers before concussion issues derailed his 2022 season. He's back at the helm and reportedly healthy, but the multiple concussions through Tagovailoa's first two seasons have many questioning his NFL longevity.
Miami signed former Jets backup Mike White as insurance and does have 2022 seventh-round pick Skylar Thompson on the roster as well. He showed some potential in limited action at the end of last season, but Lance would provide more upside as a developmental option.
The other four teams all have their own long-term questions at quarterback.
Former No. 1 overall pick Baker Mayfield beat out Kyle Trask for the starting job in Tampa Bay, but is either the long-term answer for the Bucs?
The Raiders parted ways with Derek Carr in the offseason and are now counting on oft-injured Jimmy Garoppolo to fulfill their playoff aspirations. Could former San Francisco starter Garoppolo wind up on the same roster again with Lance?
The Packers traded Aaron Rodgers to the Jets and handed the keys of the offense to Jordan Love. Love is a former first-round pick, but he also has thrown 83 total passes through his first two seasons.
Of the eight teams being offered as potential destinations for Love, the Steelers would appear the most unlikely. Kenny Pickett showed strong signs of being the franchise quarterback of the future, and Pittsburgh still has veterans Mitch Trubisky and Mason Rudolph behind him.
Lynch's phone will likely ring with general managers gauging the price tag on Lance, who has played in only eight games — with four starts — through two NFL seasons. He has completed 56 of 102 passes for 797 yards with five touchdowns and three interceptions.
Lance was at back at 49ers headquarters and preparing to play as QB3 in Friday night's final preseason game against the visiting Los Angeles Chargers.
He entered the 2022 season as the 49ers' starting quarterback before fracturing his right ankle in the second game of the season. The injury, which included ligament damage, required two surgeries — the second to remove hardware from the first that was causing irritation in the ankle.
Lance is set to count $9.3 million against the salary cap this season. The team moved from No. 12 in a trade with the Dolphins to select Lance third in the 2021 draft. That transaction cost the 49ers first-round picks in 2021, '22 and '23 in addition to a third-rounder in '22.
—Field Level Media