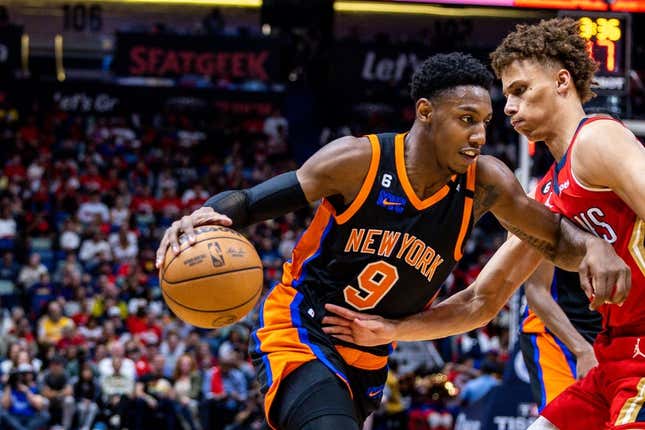 Trey Murphy III had a second consecutive 30-point game for the first time in his career, finishing with 31, and the host New Orleans Pelicans defeated the New York Knicks 113-105 on Friday night
'Soccer fandom is full of gatekeepers' says Ted Lasso actor Brendan Hunt
Murphy scored 31 two nights after scoring 30 in a victory against Memphis, and the Pelicans (42-39) won for the ninth time in 11 games. They are guaranteed at least the No. 9 seed in the Western Conference going into their finale at Minnesota on Sunday
CJ McCollum added 23 points, Brandon Ingram scored 18 and Herbert Jones Jr. had 15.
RJ Barrett returned from a two-game absence due to illness and scored 28 points to lead the Knicks (47-34), who are locked into the No. 5 seed in the Eastern Conference
The Knicks played without leading scorer Julius Randle (ankle), who is sidelined at least through the regular-season, as well as Jalen Brunson (hand) and Mitchell Robinson (rest)
Immanuel Quickley added 24 points, Quentin Grimes scored 14 and Obi Toppin had 10.
Naji Marshall made a 3-pointer and Murphy hit two free throws to start the fourth-quarter scoring and give the Pelicans a 88-83 lead
Miles McBride's basket produced the first of two ties before the lead changed hands three times.
McCollum's 3-pointer completed a 7-0 run that gave New Orleans a 106-100 lead.
Barrett scored three straight points to cut the lead in half, but Jones answered with a 3-pointer that gave the Pelicans a 109-103 lead with 1:40 remaining
McCollum made a 3-pointer and Murphy made back-to-back 3-pointers as New Orleans began the third quarter with a 19-8 run that produced a 79-68 lead.
Quickley made three consecutive 3-pointers to trigger a 15-2 run that gave New York a two-point lead before Murphy's put-back beat the buzzer and evened the score at 83 at the end of the period.
Quickley scored 10 of his 15 first-quarter points during the final five minutes and the Knicks took a 30-27 lead at the end of the period
The second quarter featured eight lead changes and four ties, the last one being a 60-all halftime tie.
--Field Level Media