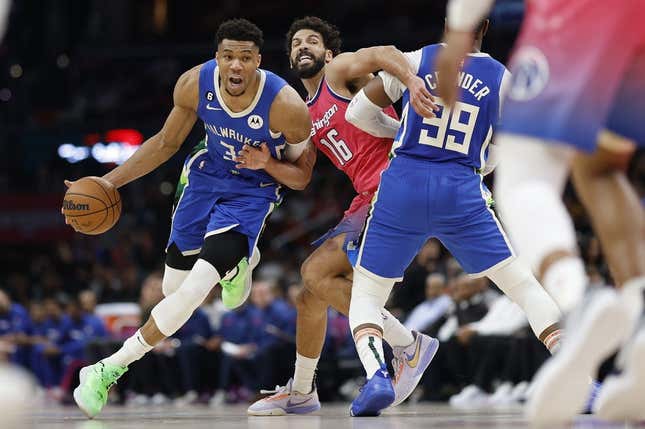 Giannis Antetokounmpo put forth a 28-point, 11-rebound and 10-assist triple double, his sixth of the season, leading the Milwaukee Bucks to a 140-128 win on the road against the host Washington Wizards on Tuesday night
Chris Paul should ride the bench next season | Keep it a Buck(et)
Bobby Portis added a 19-point, 20-rebound double-double for Milwaukee (57-22) while Jrue Holiday scored 26 and Jae Crowder also scored 19 in his first start with the team, subbing in the lineup for Grayson Allen. Khris Middleton and Jevon Carter were also unable to play tonight.
Washington (34-45) was led by Kendrick Nunn with 24 points along with seven rebounds and six assists. Six other players scored in double-figures, including rookie Wisconsin-native Johnny Davis with a career-high 20 points.
The first quarter went back and forth, with Milwaukee eventually going into the second with just a three-point lead. The Bucks were able to stretch the lead to 14 by halftime, 75-62
The Wizards kept the game close early on by forcing 18 Bucks turnovers, but ultimately the Bucks shooting from deep was too much. Milwaukee went 14-for-22 from beyond the arc in the first half and 23-for-42 for the game, cruising for most of the second half
In addition to the players who missed the game due to injury, Pat Connaughton suffered a right ankle sprain in the first quarter and missed the remainder of the game. Carter's injury was announced today as a left foot laceration.
Milwaukee takes the season series against Washington 3-1, winning the final three matchups. They have not lost or tied a season series against the Wizards since the 2017-18 season
The Bucks magic number for clinching the No. 1 seed in the Eastern Conference is down to two with the win and may fall to just one if the Boston Celtics lose to the Philadelphia 76ers Tuesday night
The Wizards were eliminated from play-in contention following their loss on Sunday to the New York Knicks
--Field Level Media