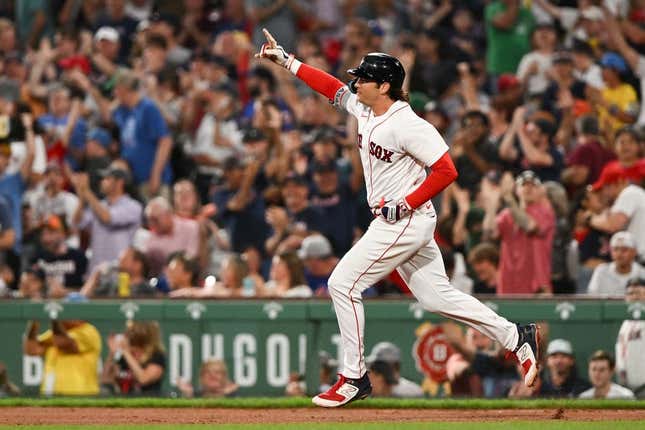 Triston Casas has been hot at the plate in July, and the Boston Red Sox would like it if he remained that way Sunday night when they face the visiting New York Mets in the deciding game of a three-game series
How running an NFL team is like running a restaurant | Chef Emeril Lagasse
The Mets and Red Sox split two games Saturday. New York earned a 5-4 victory in the first contest, which was the completion of a game suspended Friday night, and Boston posted an 8-6 triumph later in the night
Casas, a rookie first baseman, hit two home runs in Saturday night's victory, both of which came against Max Scherzer. It was the first multi-homer game of his career. Casas became the first rookie to hit two home runs against Scherzer in the same game.
Casas has 14 home runs this season, and five in his past eight games.
"It was such a hard matchup going into it because we want to break (Scherzer) down and we want to make him throw a lot of pitches, but at the same time he's so aggressive in the zone," Casas said. "I got into a couple even counts, and then ahead in the ones I was able to take advantage of. What a great pitcher. I'm not going to say I got lucky a couple times, but it feels like that for sure.
"Lately I've just been putting the barrel on the ball. They've been flying, jumping for hits. Things have been turning my way, so I'm just going to keep riding this as long as I can because there's going to be a stretch where this doesn't happen."
The victory ended Boston's three-game losing streak. The Red Sox had won eight of nine before the three consecutive losses
"(Casas is) a good hitter," Red Sox manager Alex Cora said. "Like I always say, 'There's a reason you get drafted that high [first round].' It's not a coincidence, right? There's talent.
Carlos Carrasco (3-3, 5.35 ERA) is scheduled to start Sunday night for New York. The veteran right-hander, who has failed to last five innings in four of his past six starts, is 1-3 with a 7.47 ERA in 31 1/3 innings over eight career appearances (six starts) against the Red Sox
Boston has not announced a starting pitcher for Sunday's game, but with Chris Sale, Garrett Whitlock, Corey Kluber and Tanner Houck all on the injured list, the Red Sox are expected to use a combination of relief pitchers not only Sunday night, but for Tuesday's game against Atlanta as well
Nick Pivetta (6-5, 4.38) could get a heavy workload in at least one of those games. Pivetta, who pitched one inning Saturday night, set a franchise record for the most strikeouts recorded by a relief pitcher when he struck out 13 during six innings of a 7-0 victory over Oakland on Monday. He faced 20 batters in that game and did not allow a hit.
"We needed Nick (Saturday) in that inning," Cora said. "We're OK (Sunday). We know what we're going to do. He might be part of it, he might not be part of it."
Pivetta began the season in Boston's starting rotation, but was moved to the bullpen after posting a 6.30 ERA in eight starts.
New York second baseman Luis Guillorme left Saturday's first game with what Mets manager Buck Showalter said is a calf injury
"Probably going to go on the (injured) list," Showalter said. "I think it's pretty obvious."
--Field Level Media