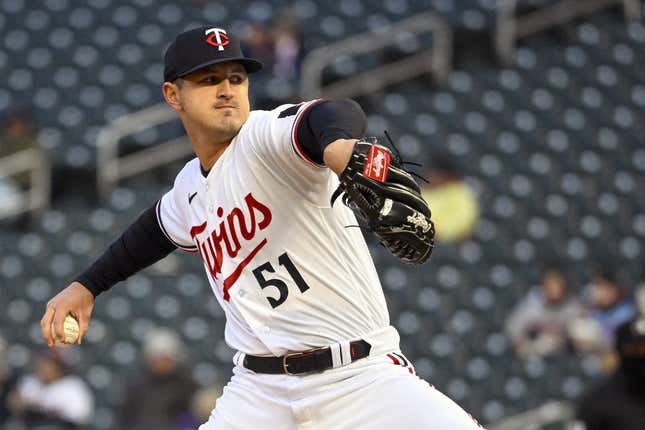 The Minnesota Twins created positive feelings by taking a season series from the New York Yankees for the first time since 2001 -- and then turned in a clunker
Is Texas or Florida State a bigger national title contender? | Agree to Disagree
After one of their worst showings of the season's first month, the Twins hope to create more good vibes Thursday night when they oppose the struggling Kansas City Royals in the opener of a four-game series in Minneapolis
The Twins head into their second series with the Royals with seven losses in their past 11 games since winning the first two of a four-game set at Yankee Stadium on April 13-14. Yet they were in position to sweep the Yankees on Wednesday afternoon before falling behind by 10 runs and taking a 12-6 loss
Minnesota's offense mustered five hits, only including two homers by Jose Miranda and Joey Gallo's seventh home run of the season. The Twins collected 27 hits in their three-game winning streak prior to the loss
"It was far from a crisp game on our end," Minnesota manager Rocco Baldelli said.
Minnesota has won its past seven home meetings with the Royals and also swept a three-game set at Kansas City to open this season
Kansas City, at 6-19, is off to its worst 25-game start since dropping 20 of its first 25 contests in its 104-loss season in 2018.
The Royals head to Minnesota with 10 losses in 12 games, a stretch in which they have been held to three runs or fewer eight times. After producing 14 hits in a 5-4 win at Arizona on Tuesday, Kansas City struck out 13 times -- 12 against starter Zac Gallen -- and was held to five hits in a 2-0 loss to the Diamondbacks on Wednesday
"Any opportunity (is important)," Kansas City manager Matt Quatraro said after his team put two on in the ninth before getting blanked for the sixth time this year. "It presented itself early tonight, but (Gallen) got out of it. He beared down right out of the gate."
After Sonny Gray and Joe Ryan pitched seven innings apiece in wins over the Yankees and then Kenta Maeda lasted only three innings in the Wednesday loss, Tyler Mahle (1-2, 3.32 ERA) will start for Minnesota on Thursday.
The right-hander has thrown at least 90 pitches in three straight outings. He took a no-decision Friday when he allowed one run on three hits in 6 1/3 innings against the Washington Nationals.
Mahle is 1-0 with a 2.25 ERA in three career appearances (two starts) against the Royals. He took a no-decision in his latest appearance against them Aug. 17 in Minnesota, when he pitched 2 1/3 scoreless innings before exiting due to right shoulder fatigue
Zack Greinke (0-3, 4.61 ERA) goes for Kansas City, looking to end a personal 19-game road winless skid dating back to Aug. 13, 2021. He took a no-decision Saturday when he allowed four runs on seven hits in five innings before the Royals rallied late for an 11-8 win over the host Los Angeles Angels
Greinke is 5-14 with a 4.51 ERA in 31 career appearances (27 starts) against the Twins. He took the loss in the 2023 season opener against Minnesota when he allowed two runs in 5 1/3 innings
--Field Level Media