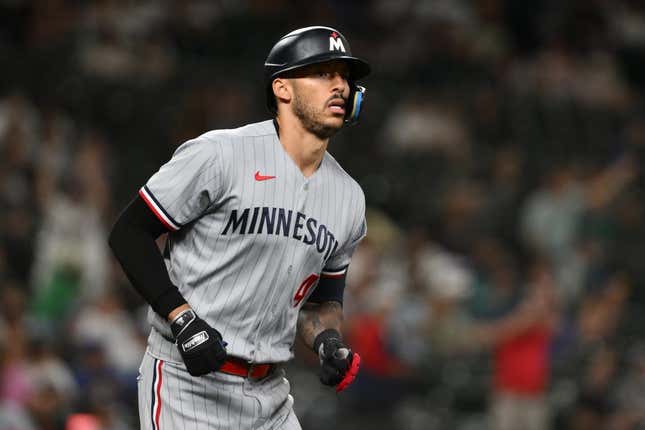 With Carlos Correa struggling through the worst season of his career, Minnesota Twins manager Rocco Baldelli made an unconventional decision
How running an NFL team is like running a restaurant | Chef Emeril Lagasse
Instead of dropping Correa down the batting order, Baldelli moved him to the top.
So far, so good.
Correa went 2-for-6 with a home run as the Twins defeated the host Seattle Mariners 10-3 Tuesday to even their four-game series at one win apiece. The series continues Wednesday night at T-Mobile Park
Correa, a two-time All-Star who had batted leadoff only three times in his career, was hitting .212 when Baldelli made the move June 30 against Baltimore. In 14 games since, Correa is batting .339 with 11 runs scored.
"Before you do something with one of your best players, one of your big guys that they've never done before, you don't just on a whim start doing random stuff with those guys, but I think we reached a pretty good point to just make any sort of bold decision that we've been thinking about and that was one of them," Baldelli said.
Correa has been hesitant to credit batting leadoff for his resurgence, but the numbers are unquestionable.
"I guess when you're hitting (in the) two, three (spot)," he said, "I was just trying to go deep every at-bat. Now, I'm just trying to catch the ball with my barrel."
The solo shot in the ninth inning Tuesday was Correa's first homer since June 24.
"(I've) just got to try to build some consistency, which I was not able to do in the first half," he said. "Put some good games together, put some good weeks together and then the confidence is building up and you can start lifting the ball. It's a process, but I don't plan to be a slap hitter."
Correa's homer was one of four hit by the Twins on Tuesday, as Alex Kirilloff, Edouard Julien and Kyle Farmer also sent balls into the seats
The Mariners took a 3-2 lead in the first inning on six hits despite having two runners thrown out at the plate. They failed to score again and had just three more hits the rest of the night
"We find a way to play some strange games the last few nights," Mariners manager Scott Servais said
Wednesday's game is scheduled to feature a matchup of right-handers in Minnesota's Kenta Maeda (2-5, 5.50 ERA) and Seattle's Luis Castillo (6-7, 2.96).
Maeda, who missed nearly two months with a right triceps strain, is 2-1 in four starts since his return. He got a no-decision in the Twins' 5-4 victory Friday at Oakland, when he allowed three runs on four hits in three innings, with four walks and six strikeouts. Maeda is 0-0 with a 2.25 ERA in one previous start against Seattle
Castillo, who was a member of the American League team but didn't pitch in last week's All-Star Game, is coming off a 5-4 loss to visiting Detroit on Friday in which he gave up three runs on four hits in five innngs, with no walks and five strikeouts. Castillo is 1-1 with an 8.18 ERA in three career starts against Minnesota.
"Hopefully we'll get a good start from Luis Castillo and we get after it and win the ballgame (Wednesday)," Servais said. "The goal is still to win the series and we still have a chance to do that."
--Field Level Media