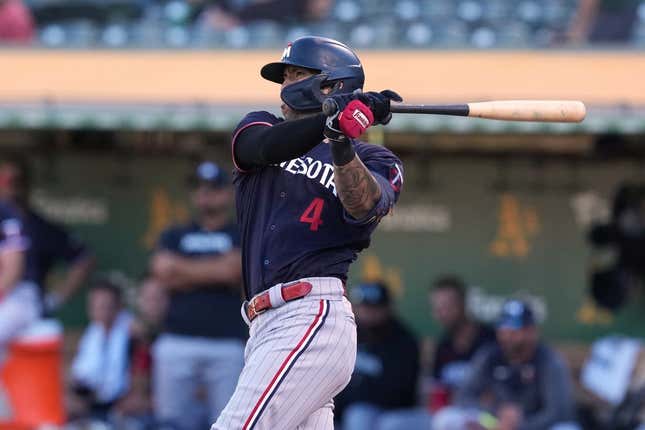 Carlos Correa hopes to continue to demonstrate to Bay Area baseball fans that he's not the damaged goods the San Francisco Giants claimed he was when the Minnesota Twins go for a sweep of the host Oakland Athletics on Sunday
How running an NFL team is like running a restaurant | Chef Emeril Lagasse
Correa has wielded one of the most potent bats in the series, totaling three singles and two doubles, scoring twice and driving in two runs to pace Minnesota to a pair of wins.
Then a free agent, Correa reportedly agreed to a 13-year, $350 million contract with the Giants in December, only to see San Francisco management back out hours before an announced press conference due to concerns over an ankle injury.
After Correa endured the same experience with the New York Mets, he landed back with the Twins, agreeing to accept $200 million over six years
"There's no hard feelings toward both organizations," Correa said of the Giants and Mets. "There's nothing but respect for them. Doctors have differences of opinion. That's fine.
"But God took me here to the Minnesota Twins. I couldn't be more grateful for this opportunity.
Whether it's been the wrath of a scorned player or simply the talent of a guy deemed at one point to be worth $350 million, Correa hasn't looked like a shortstop with a bum ankle for two days in Oakland.
His teammates have followed his lead. Joey Gallo, Kyle Farmer and Michael A. Taylor each have hit a home run to help Minnesota move atop the American League Central standings.
Twins right-hander Joe Ryan (8-6, 3.70 ERA) and Athletics lefty JP Sears (1-6, 3.97) are the scheduled starters in the series finale. The 27-year-old pitchers have yet to face Sunday's opposition in their respective careers
Sears will take his crack at slowing down the rejuvenated attack. He has been brilliant in two July starts, limiting the Detroit Tigers and Boston Red Sox to a total of one run on seven hits over 12 1/3 innings.
Sears did not record a decision in either outing and remains winless in his past five starts, during which the A's have scored a total of just six runs.
He will be up against Ryan, who might find himself supported better than the home team. That's because the San Francisco native who starred at Sir Francis Drake High (now known as Archie Williams High) will be pitching for the first time as a major leaguer in the Bay Area.
Ryan has been hot-and-cold in his past six starts. He is 1-0 while allowing five runs and 15 hits over 21 innings in his sharp efforts, however he is 0-3 while permitting 17 runs and 21 hits over just 14 1/3 frames in his subpar outings.
A's manager Mark Kotsay left Saturday's game feeling good about the offense Ryan will face. It has put up 11 runs in two games since the All-Star break after ranking last in the AL in runs scored in the first half.
"There were a lot of good signs, a lot of good at-bats," Kotsay said. "Today the offense did their part. Anytime you can put up seven runs in a game, especially against that type of starter (Pablo Lopez), generally you have a good chance to win."
--Field Level Media