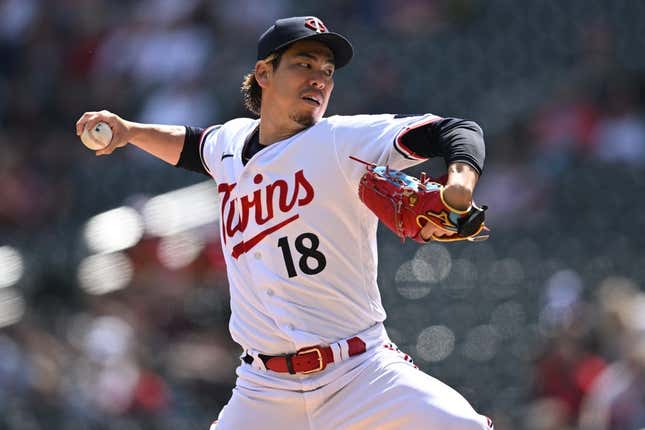 Byron Buxton's mind was blown when he found out the last time the Minnesota Twins won a season series over the New York Yankees
'Soccer fandom is full of gatekeepers' says Ted Lasso actor Brendan Hunt
Buxton might deliver a similar reaction if the Twins can finish off a three-game sweep of the Yankees and he's asked about his team achieving that feat for the first time since September 1991
After securing the season series for the first time since 2001, the Twins go for a three-game sweep of the Yankees on Wednesday afternoon in Minneapolis
The Twins are seeking their first three-game sweep over the Yankees since Sept. 6-8, 1991, when the Twins were on their way to a second World Series title under manager Tom Kelly, while the Yankees were closing out their third straight losing season
Minnesota is in position to sweep following a pair of comfortable victories.
After the Twins opened the series with a 6-1 victory on Monday, Buxton and Trevor Larnach hit two-run homers in the sixth inning of a 6-2 victory Tuesday. Buxton entered Tuesday 0-for-16 against the Yankees, but hit a tiebreaking drive in the sixth after Jorge Polanco doubled
"Twenty-two years? I was 6," Buxton said when told of the last time the Twins won the season series against New York. "This one felt extra good after hearing that then.
Aaron Judge, who turns 31 Wednesday, batted third Tuesday, but the Yankees did little after collecting five of their seven hits in the first two innings. The Yankees lost a season-high third straight and were held to three runs or fewer for the 10th time in 12 games, a stretch where they are 5-7
DJ LeMahieu hit an RBI single and New York's other run came on an error. Anthony Rizzo flip-flopped with Judge and went 0-for-4 with three strikeouts as the second-place hitter.
"I think when you kind of back off and strip off the emotion watching tonight, I felt like [it was] a different offensive game, a different at-bat quality than what we saw last night," New York manager Aaron Boone said. "So in some ways you try to take a little gain in that, but the reality is we're in a stretch right now where we haven't scored enough runs -- and that's gotta change."
After Sonny Gray and Joe Ryan completed seven innings in the first two games, Kenta Maeda (0-3, 4.15 ERA) will take the mound. His previous start last Thursday in Boston ended after two innings when he was hit on the ankle by a comebacker. That start came after the Twins opted to skip him during their visit to New York because of fatigue
Maeda's only previous start against the Yankees was Aug. 21, 2021, in New York. He allowed five runs in 4 1/3 innings before being pulled with right forearm tightness that led to his Tommy John surgery
Domingo German (1-2, 4.50) goes for New York. His last start against the Twins on April 15 in New York was the source of controversy. He retired the first 16 hitters and struck out 11 after being allowed to keep pitching when umpires inspected him three times for sticky substances
German followed up his dominant showing against the Twins by allowing four runs and five hits in six innings of a 6-1 home loss to the Toronto Blue Jays on Friday
The right-hander is 2-0 with a 4.55 ERA in six career appearances (four starts) against the Twins
--Field Level Media