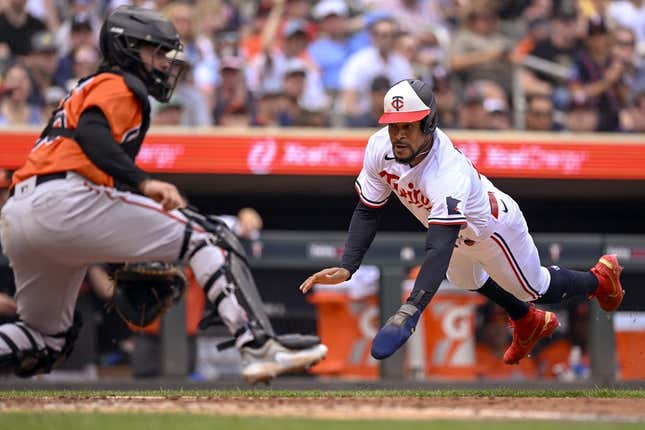 The Minnesota Twins return home from a successful road trip not only back in first place in the up-for-grabs American League Central, but with a chance to pad their slim lead
How running an NFL team is like running a restaurant | Chef Emeril Lagasse
Their six-game homestand begins Friday night against the Chicago White Sox. It's the start of a key 12-game stretch against teams without a winning record and a chance to build on their two-game lead over the second-place Cleveland Guardians
After three games against the White Sox, who are 16 games under .500, Minnesota will play three games against the Seattle Mariners, who got back to the .500 mark with a 5-0 win over the Twins on Thursday afternoon. Then manager Rocco Baldelli's squad hits the road for three games apiece at Kansas City and St. Louis
Meanwhile, the Guardians have three-game series against the two reigning World Series combatants, Philadelphia and Houston, during that stretch, as well as three games at home against the Royals and four in Chicago against the White Sox
Right-hander Joe Ryan (8-6, 3.77 ERA) will start the Friday opener for Minnesota vs. veteran right-hander Lance Lynn (6-8, 6.06).
Ryan, who has won just one of his past nine starts, is 0-0 with a 1.80 ERA in two career starts covering 10 innings against the White Sox. He ended with a no-decision in his one appearance against them this season. On May 2 in Chicago, he surrendered just one hit and two walks while striking out seven in six scoreless innings during a game the Twins lost 3-2 in 10 innings
Lynn, the object of trade rumors heading toward the Aug. 1 trade deadline, is 2-2 with a 4.50 ERA in nine career starts against the Twins. He struck out 10 at Minnesota on April 11, when he gave up three runs in six innings during a no-decision as Minnesota prevailed 4-3 in 10 innings
Lynn has won two of his past three starts and comes in off a 6-5 victory at Atlanta on Saturday, when he allowed four runs on six hits and three walks over 5 1/3 innings. He fanned six.
Minnesota managed just five hits in its loss at Seattle on Thursday. Mariners right-hander George Kirby limited the Twins to four hits over seven innings while striking out 10
"He came as advertised," Baldelli said. "We didn't have the answer for him today."
Slumping Twins designated hitter Byron Buxton returned to the starting lineup after two games off to "reset" but went 0-for-4 with two strikeouts. Buxton, who is batting .193, is 0-for-25 with 15 strikeouts over his past six games
"He's going to keep working," Baldelli said. "It's a long season and it's a grind. ... You're going to have points (in the season) that feel like low points, and it doesn't take a lot to get out of those low points. But it takes work, and it takes discipline, and it takes belief and focus. He has those things, and he's surrounded by people who know what he's capable of and are going to keep him going."
Chicago is 3-3 as it begins the final leg of its nine-game road swing.
The White Sox took two of three from the Atlanta Braves but just one of three from the New York Mets. They salvaged the final game against the Mets with a 6-2 victory on Thursday as Michael Kopech allowed just one run on two hits over 5 2/3 innings and Eloy Jimenez had two hits and an RBI
White Sox manager Pedro Grifol believes his squad hasn't thrown in the towel despite speculation the team will be a seller at the trade deadline
"You're always thinking about the future, regardless of where you're at," Grifol said, according to the Chicago Sun-Times. "This is not a one-stop shop. ... We want to win this year. Regardless where you're at, you're always thinking about winning this year, setting yourself up for next year and the following year."
--Field Level Media