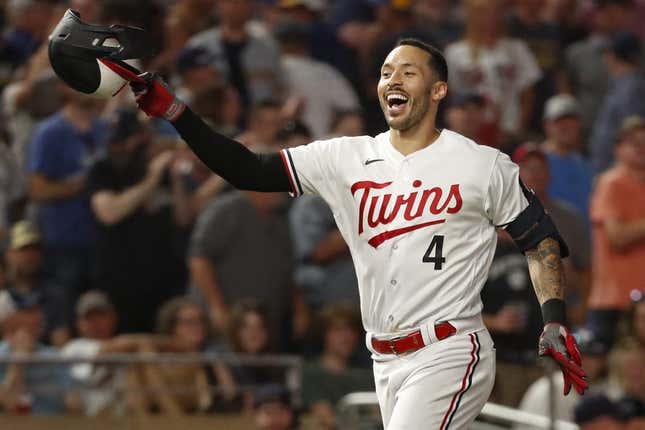 The Minnesota Twins will look to sweep a two-game series against the Milwaukee Brewers on Wednesday afternoon after walking it off with a thrilling ninth-inning comeback on Tuesday night in Minneapolis
How running an NFL team is like running a restaurant | Chef Emeril Lagasse
The Twins took the series opener 7-5, winning it when Carlos Correa socked a two-run homer against Brewers All-Star closer Devin Williams to cap a four-run frame
It was the first blown save for Williams this season, who came into the outing only having allowed one earned run this year in 21 appearances and 21 2/3 innings. Correa's home run was the second of the inning after Michael A. Taylor led off the final frame with a blast to dead center.
"One of the reasons we do this is for nights like this," Twins manager Rocco Baldelli said, "to get a chance to watch your guys come through so big against one of the best pitchers in baseball. Sometimes you just need something huge, and we got something huge late.
Correa said of coming through against Williams, "He's one of the best in the game, and he's been known for his changeup for a while now. So, yeah, it's not easy to put together at-bats like that, but we did it."
The Brewers, who were swept by the major league-worst Oakland Athletics last weekend, had the opportunity to end their skid on Tuesday. Now they have dropped five in a row
"You have the game where you want it and the guy who's done it every time this year," Brewers manager Craig Counsell said. "I know it doesn't happen often, but it's going to happen.
The comeback gave Minnesota its third win in four games.
Milwaukee will send Colin Rea (3-3, 4.47 ERA) to the mound on Wednesday for his 11th start and 12th appearance of the season. It will be the first time Rea, a five-year veteran, has faced Minnesota.
Rea was solid his last time out, throwing five shutout innings at home against the Baltimore Orioles on Thursday. He struck out eight while allowing three hits and one walk. The right-hander has a 3-0 record and a 2.95 ERA in his last four starts.
Minnesota will hand the ball to Bailey Ober (3-3, 2.61), who will look to continue his strong first half of the season in his 10th start. It will be Ober's first matchup against Milwaukee.
Ober's last start came on the road against the Tampa Bay Rays on Thursday, when he got tagged with the loss after allowing four runs (three earned) on three hits in 5 1/3 innings. He fanned seven and walked two. It was just the third time this season that Ober allowed more than two earned runs.
The Wednesday contest will be unfamiliar territory for both pitchers and both lineups, as only one hitter on either side, Taylor for Minnesota and Owen Miller for Milwaukee, has faced the opposing starter. Miller is 1-for-2 vs. Ober; Taylor is 0-for-2 vs. Rea.
The Brewers won three of four meetings between the teams last year. After the current two-game set, the clubs will face off for two games at Milwaukee on Aug. 22-23
--Field Level Media