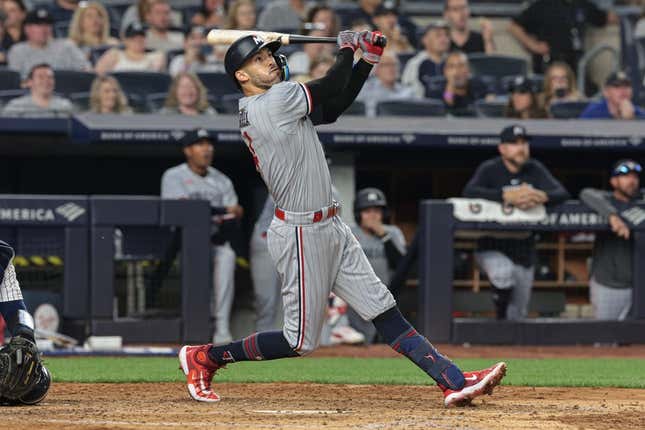 Carlos Correa hears boos every time he steps to the plate in Yankee Stadium, and lately each time he faces the New York Yankees, the shortstop does something productive
Correa helped the Minnesota Twins clinch at least a split of the four-game series and attempts to lead his team to a fourth straight win against the New York Yankees on Saturday afternoon
The Twins are trying to win their fifth straight after getting two different victories. Correa homered to cap a nine-run first inning in Thursday's 11-2 rout when the Twins hit three straight home runs and then enjoyed another big night Friday
Correa followed up his first homer since returning to the Twins following failed physicals with the New York Mets and San Francisco Giants in the offseason by homering in the sixth inning and hitting a go-ahead two-run double in the eighth off Clay Holmes on Friday
Correa's big night continued his recent run of steady showings against the Yankees. Besides slugging home runs in four straight games against the Yankees, he also has hit .387 (12-for-31) with five homers and eight RBIs during an eight-game hitting streak against New York
"It's a baseball atmosphere," Correa said. "Fans know the game. They know every player's name, they know their families, they know their wives, they know everything about the sport. To me that's what I grew up loving about this game.
"Being a fan of the game, understanding the game, studying the game. I think the fans here get that and for me that's fun. Even if they boo me, even if they say whatever they say, for me I love that. It's the atmosphere I want every single game.
The Yankees are trying to avoid their first three-game losing streak of the year after getting off to a quick start Friday. Rookie Anthony Volpe and Aaron Judge homered on consecutive pitches to start the game but the Yankees struck out 11 times and had one at-bat with a runner in scoring position
"Pretty disappointing, frustrating, but get back tomorrow and get the next one," Holmes said.
The Yankees played without DJ LeMahieu due to a minor quadriceps injury. LeMahieu was held out of a third straight game but was in the on-deck circle in the ninth and could return Saturday
Minnesota's Tyler Mahle (1-1, 4.09 ERA) makes his 120th career start and first against the Yankees. Mahle began his first full season with the Twins by allowing one run in five innings at Miami on April 3 and took the loss Sunday when he allowed four runs on eight hits in six innings of a 5-1 loss to Houston
Domingo German (0-1, 5.87), who has yet to complete five innings this season, starts for the Yankees and hopes to display better command of the strike zone. While German allowed two runs (one earned) and two hits in three innings in Monday's 3-2 loss at Cleveland, he tied a career high by walking five for the second time in his career and did not record a strikeout
German is 1-0 with a 5.48 ERA in five career games (three starts) against the Twins. He last faced Minnesota on Sept. 7 when he allowed three runs on seven hits in six innings
--Field Level Media