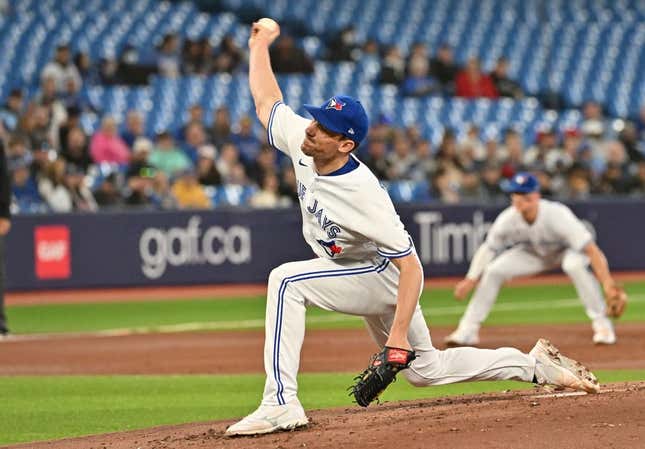 The Minnesota Twins will try to do a better job of cashing in their opportunities when they face the Toronto Blue Jays in the second game of their three-game series on Saturday afternoon in Minneapolis
Bass' ERA stinks, but not compared to who he is off the mound | Worst of the Week Countdown
The Twins worked nine walks in the series opener on Friday night and forced Toronto pitchers into three-ball counts in 10 other at-bats, but could manage only one run in the 3-1 loss, their fourth in the past five games
Minnesota finished 1-for-9 with runners in scoring position and stranded 13 runners overall.
"It was kind of an odd game because we didn't swing the bats that well, but we had some good at-bats," Twins manager Rocco Baldelli said. "We got late in some counts, laid off some pitches in the latter half of these at-bats and had some guys on base. We've got to bring those guys around and we didn't do that, but there was constant action.
Toronto plans to start right-hander Chris Bassitt on the mound, and he also deserved better results in recent outings.
Bassitt (5-3, 3.03 ERA) is 0-1 in his past two starts, despite allowing just two earned runs in a combined 13 1/3 innings.
He was victimized by poor defense in his last outing on Monday, as the Tampa Bay Rays scored four unearned runs and Bassitt took the loss in the 6-4 defeat.
Toronto first baseman Vladimir Guerrero Jr. committed his first two errors of the season in the second and third innings, which led to the four unearned runs.
Bassitt didn't help himself either, giving up three home runs.
"I think they were hunting my heater a lot (on Monday), and I didn't have my off-speed at all," Bassitt said. "There are adjustments to be made."
Bassitt has made six appearances against the Twins in his career, including three starts, and is 1-0 with a 3.32 ERA
The Twins plan to counter with right-hander Pablo Lopez, who has been snakebit of late as well
Lopez (2-3, 3.90) is 0-1 in four starts this month, but pitched well enough to win three of those outings.
He most recently gave up two runs and five hits in six-plus innings against the visiting Los Angeles Angels last Sunday, but took the loss in a 4-2 defeat.
Lopez departed after walking the leadoff batter in the seventh with the score tied 1-1, and the bullpen was unable to prevent that runner from scoring the go-ahead run later in the inning.
"Leadoff walks for the most part come back to get you. That late in the game, I know I could have been more aggressive in the zone," Lopez said. "I failed to execute better pitches."
Lopez made his only start against the Blue Jays as a member of the Miami Marlins during the 2021 season, allowing two runs and five hits in four innings of the 6-5 loss
--Field Level Media