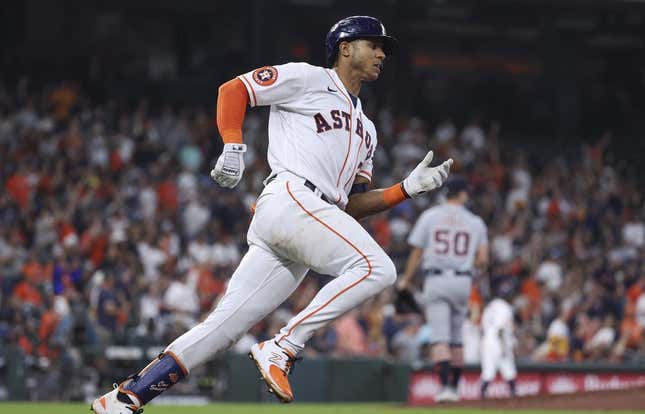 Perhaps no one felt a bigger sense of relief Wednesday than the Houston Astros' Jeremy Pena, who now has a bit of much-needed momentum heading into a series opener Friday against the host Minnesota Twins
Air Jordans are more American than McDonald's French fries | Deon Cole's Ultimate Sports Fantasy
Pena ended an 0-for-19 streak in a victory over the Detroit Tigers on Wednesday, collecting a double in the seventh inning before adding his first home run of the season in the eighth.
"It's nice to see Pena bounce back," said Houston center fielder Chas McCormick, who went 2-for-4 with a home run and two RBIs in the 8-2 victory. "He's so big for the team, so even if he does struggle, we know he's gonna bounce back."
The victory ended Houston's three-game losing streak and allowed the Astros to avoid a three-game sweep
Pena's two hits raised his batting average to .200 and he is now 6-for-30 while filling in for injured leadoff man Jose Altuve at the top of Houston's batting order.
"I don't believe in slumps," Pena said. "It's baseball. It's just part of the game. Just keep making adjustments and showing up every single day, that's what I try to do."
Friday's game will be the home opener for the Twins in a game that originally was scheduled for Thursday but was pushed back a day because of inclement weather. Temperatures in the Twin Cities on Friday are expected to reach 50 degrees after they were in the 30s on Thursday
Right-hander Sonny Gray (1-0, 0.00 ERA) still is expected to start for the Twins despite the schedule shift. Gray has a 4-4 record with a 3.08 ERA in 10 career starts against the Astros
"There are times during the year where games are moved (and) we have to shuffle a lot of different things," Twins manager Rocco Baldelli said. "In this instance it doesn't really change much.
"We talked to Sonny very early on, told him this could be a possibility. He said that's not going to affect his (between-start) throwing program. It doesn't really affect any of our other guys much. It's really a flip-flopping of the days without much adjustment."
The Twins opened their season with four consecutive victories but are coming off back-to-back road losses against the Miami Marlins
Jose Urquidy (0-0, 6.75) is Houston's scheduled starter. He needed 82 pitches to get through four innings in his debut, a 6-4 victory over the Chicago White Sox. He allowed three runs on seven hits, struck out five and walked one.
Kyle Tucker also hit a home run for the Astros on Wednesday
"We needed a win today," McCormick said. "We played really well. ... We were dragging a bit (early in the game), but mentally you've got to be tough, and I thought we were really mentally tough."
Pena hit .345 with four home runs in 13 postseason games last season, when he was named the World Series MVP. Houston manager Dusty Baker said he wasn't overly concerned about Pena's lack of offensive production early in the 2023 season.
"(Pena) hit a couple of balls hard before he got hits," Baker said. "I just wanted him to keep hitting it. Get a good pitch to hit and after that it's out of your control."
--Field Level Media