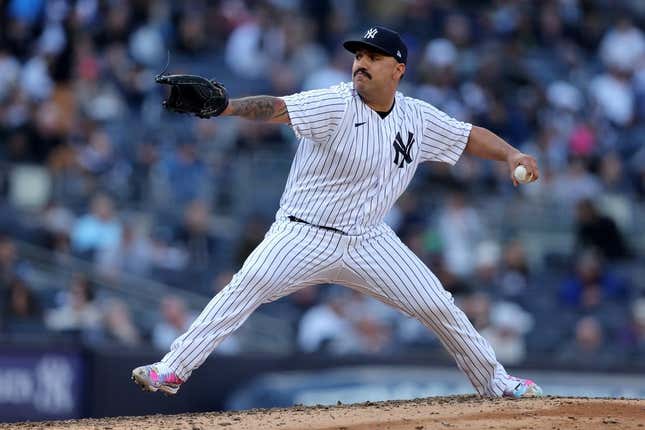 The Minnesota Twins often hear questions about how they can never beat the New York Yankees
One more win and the Twins can clinch the season series from the Yankees for the first time since 2001, and their first chance is Tuesday night in the middle game of a three-game series in Minneapolis
Minnesota is 3-2 against the Yankees this year and has outscored New York 21-6 in the three wins while producing 30 hits and going 11-for-28 with runners in scoring position
After the teams split a four-game series in New York last week, Joey Gallo homered and Jorge Polanco drove in three runs in the Twins' 6-1 win on Monday
"We had really good at-bats today," Minnesota manager Rocco Baldelli said postgame. "We forced their starter out of the game early and did some pretty good work against the relievers as well."
By winning the series opener, the Twins get two chances to secure the season series, something they last achieved by going 4-2 in 2001. Since the start of the 2002 season, Minnesota is 41-100 against the Yankees in regular-season play. The only time the squads split the season series in that span occurred when they went 3-3 in 2005 and 2006
While Minnesota has not won the season series over the Yankees since Tom Kelly's final season as manager, it has won a home series from them more recently, taking two of three in 2017 and again in 2018
New York is attempting to avoid its second series loss this year. The Yankees won or split their first six series before dropping two of three to the visiting Toronto Blue Jays over the weekend
New York is also hoping to start reversing some recent struggles at the plate. The Yankees avoided being blanked for the first time by scoring their lone run in the ninth for the second straight day as Oswaldo Cabrera hit an RBI groundout
It marked the ninth time in 11 games New York has been held to three runs or fewer and the fourth straight instance.
"Part of that is the ebb and flow, but part of it is we also got to kick it in, be a little bit better," New York manager Aaron Boone said. "We gotta figure it out."
After Twins starter Sonny Gray stifled the Yankees on Monday, Joe Ryan (4-0, 3.24 ERA) hopes he performs as well on Tuesday as he did at New York on April 13. Ryan fanned 10 and allowed a homer to Anthony Rizzo among three hits in seven innings during an 11-2 win. He is 1-1 with a 4.09 ERA in two career starts against the Yankees
Ryan followed up his outing in New York by giving up three runs on six hits in six innings during a 10-4 win at Boston on Wednesday.
Ryan is 7-0 with a 2.17 ERA over his past eight starts dating to Sept. 13.
Nestor Cortes (3-0, 3.09 ERA) will start for the Yankees on Tuesday. He matched a team record by allowing two runs or fewer in nine straight starts before allowing three runs on four hits in six innings in a 9-3 home win over the Los Angeles Angels on Thursday
Cortes is 2-1 with a 3.90 ERA in six career appearances (four starts) against the Twins. He took a no-decision in his last start against the Twins on April 14 in New York when he allowed two runs on five hits in seven innings
--Field Level Media