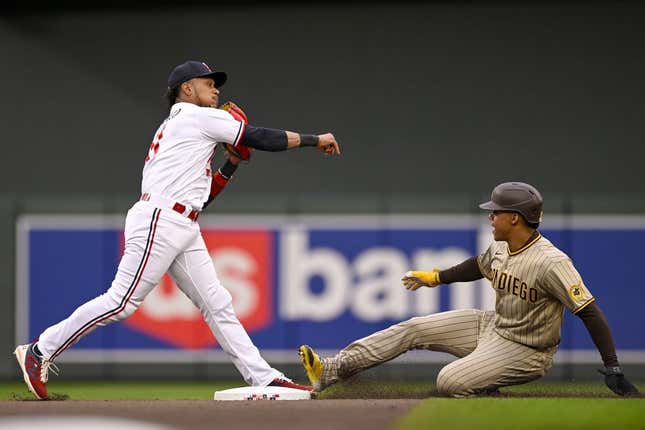 Even with Tuesday night's loss in the series opener, the Minnesota Twins have a higher winning percentage against the San Diego Padres than vs. any other National League team since the start of interleague play in 1997
Air Jordans are more American than McDonald's French fries | Deon Cole's Ultimate Sports Fantasy
Overall, the Twins are 16-8 against the Padres, a .667 clip, and they'll look to add another win on Wednesday night when the teams meet in Minneapolis in the second game of a three-game series
But these are not the Padres of past seasons. These are the big-spending Padres, the Padres of Fernando Tatis Jr., Manny Machado, Juan Soto, Xander Bogaerts, Jake Cronenworth, Josh Hader, Joe Musgrove, Yu Darvish and more
"Everyone knows what the Padres have done to improve," Twins manager Rocco Baldelli said recently. "They're more talented and deeper than they've been. Which is why the new schedule is good
"In past years, you might get an easier interleague schedule one year and a tougher one the next. Now it's balanced. The only difference is where you get them."
The Twins get the Padres and Chicago Cubs at home this week. Then it's off to face the Dodgers in Los Angeles
"Facing the Padres and Dodgers six times in a span of nine days is a tough part of the schedule," Baldelli said
Wednesday night, it will be a matchup of right-handers with Seth Lugo (3-2, 3.21 ERA) starting for the Padres against Pablo Lopez (2-2, 3.77). The Twins will look to snap their third three-game losing streak of the season and of the past three weeks
Meanwhile, the Padres will try to build on some momentum created by Tuesday night's 6-1 win. The Padres altered the top of their batting order for one of the few times this season
Padres manager Bob Melvin moved Cronenworth up into the second spot in the order behind Tatis, enabling the Padres to alternate right-left batters throughout the order. The only time they had hitters back-to-back from the same side is when No. 9 Austin Nola and No. 1 Tatis batted
"We're going to try to find the right mix until we get it right," Melvin said of his lineup. "We wanted to see what we could do with a little more balance. You're always trying to find the best structure. We haven't done as well as we would have expected, so sometimes you shake it up."
Tuesday's shakeup produced the first four-hit game by Juan Soto since the Padres acquired him in a trade with the Washington Nationals last August
For the Twins, Lopez will make his eighth start of the season. He has averaged more than six innings a start, giving up 18 runs on 37 hits and 10 walks with 54 strikeouts in 43 innings. He is 1-1 with a 4.26 ERA in 12 2/3 innings over two career starts against the Padres
Lugo will make his seventh start of the season. In 12 career appearances (one start) against the Twins while with the Mets, he is 2-0 with a 3.00 ERA with 19 strikeouts and four walks
--Field Level Media