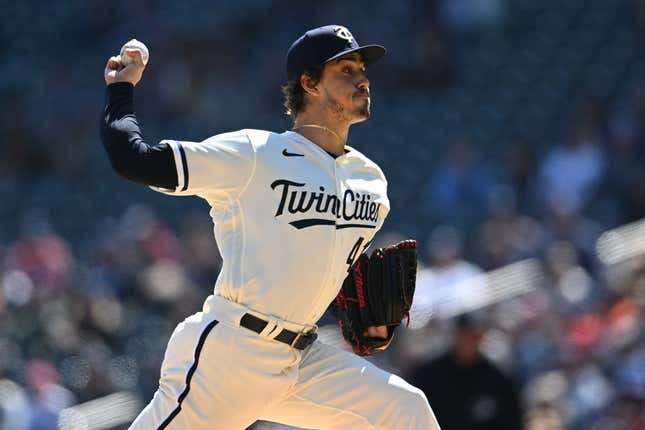 Right-hander Joe Ryan led the Minnesota Twins in victories, strikeouts and innings pitched last season, but the Boston Red Sox will be facing an even better version of Ryan when they host the Twins at home Wednesday night
Air Jordans are more American than McDonald's French fries | Deon Cole's Ultimate Sports Fantasy
Ryan entered the 2023 season armed with two new pitches: He tinkered with his slider, and added a split-finger pitch that he can use like a changeup.
So far it appears that adding to his arsenal was worth the effort. In three starts this season Ryan is 3-0 with a 2.84 ERA. He has 26 strikeouts and three walks in 19 innings. He finished last season with team-best totals of 13 wins, 151 strikeouts and 147 innings pitched.
"It just opens up a lot of doors,' Ryan told the Minneapolis Star Tribune of his additional pitches earlier this year. "That's the biggest thing. I have the fastball and I can go to a couple of other weapons, too. And then we can throw the fastball a ton if we want. We can throw changes, we can throw the slider, we can throw the curveball. We can throw whatever we want. ... Just opening doors and having options is a good thing."
Things haven't gone nearly as well this season for Corey Kluber, who is scheduled to oppose Ryan on Wednesday. The right-hander is 0-3 with a 6.92 ERA this season, his first with Boston. He's allowed 10 runs, including four home runs, in 13 innings.
Kluber, a two-time Cy Young Award winner, is hoping to regain the form he had earlier in his career, much like Chris Sale did in Boston's 5-4, 10-inning triumph over Minnesota on Tuesday night in the first game of the three-game series.
Sale, who has dealt with multiple injuries during the last four seasons, limited Minnesota to one run in six innings and struck out 11. It was the first time he had at least 10 strikeouts in a game since the 2019 season.
"This is who I expect to be," Sale said following Tuesday's win. "It's who I need to be for this team. I can't be who I was. It doesn't stop now. It's just one start like all the other ones. This is going to continue to take a lot of work to get back to where I was and I'm prepared for it."
Boston scored three runs in the bottom of the 10th inning Tuesday after the Twins grabbed a 4-2 lead in the top half of the inning. Alex Verdugo came through with the game-winning hit, a two-out single in the 10th. Verdugo had three hits in the win to raise his batting average to .348 this season
"It was a team win, a team fight," Verdugo said. "That bottom of the 10th had a lot of clutch at-bats. I'm just happy to seal the deal."
Before Tuesday's loss, Twins manager Rocco Baldelli said that outfielder Joe Gallo will likely come off the injured list before Wednesday's game and could play against the Red Sox. Gallo was placed on the injured list with a minor right intercostal strain retroactive to April 8 last week
Gallo has homered three times in seven games this season (18 at-bats).
--Field Level Media