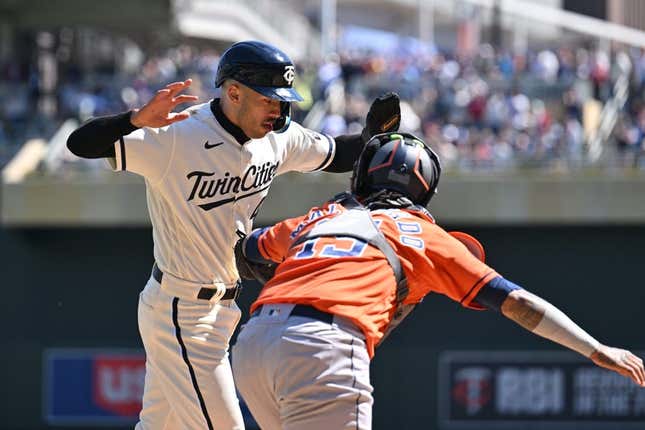 Minnesota Twins shortstop Carlos Correa was scratched due to back tightness on Monday before the home opener against the Chicago White Sox, but manager Rocco Baldelli said he could return as soon as Tuesday
Does Jimmy Butler have the best NBA Finals origin story? | Agree to Disagree
Correa also missed Sunday's game with back stiffness and though he was improved, the Twins opted not to play him Monday afternoon
Correa said he first experienced soreness after a play at the plate on Saturday, when he tried to spin away from a tag.
"My problems in the past were more lower back," Correa said. "There's nothing there right now. It's just like a spasm. Nothing to worry about. Just some treatment and some rest and it should be good."
Correa was on the injured list for significant stretches of the 2019 and 2020 seasons with the Houston Astros. A failed physical kept him from signing with the San Francisco Giants in the offseason.
Correa is hitting .182/.250/.242 with 10 strikeouts in 36 plate appearances this season.
Health concerns led to a circus-like offseason for Correa, who ultimately re-signed with the Twins after coming close to contracts with two other teams
A failed physical prevented Correa from signing a $315 million deal with the Giants in free agency and a second deal, reportedly worth over $300 million with the New York Mets, was also scrapped. The primary question for both teams at the time was the stability of Correa's ankle, he said in January.
"One thing I learned throughout the whole process was that doctors have a difference of opinions," Correa said. "I had a lot of doctors tell me that I was fine, I had some doctors that said it wasn't so fine. It was shocking to me because since I had the surgery, I never missed a game, I never [got] treatment in my ankle, my ankle's never hurt."
--Field Level Media