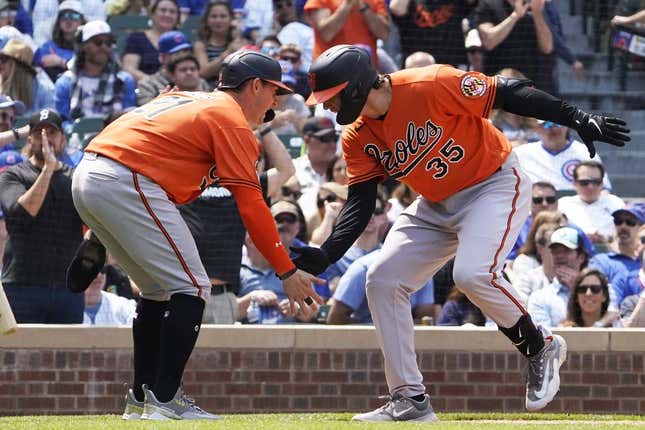 The Minnesota Twins will be looking for a reset of sorts when they open a three-game road series against the Baltimore Orioles on Friday
How running an NFL team is like running a restaurant | Chef Emeril Lagasse
Minnesota is tied with the Cleveland Guardians atop the American League Central Division and will enter after getting swept in a three-game series against the Atlanta Braves. The Twins were outscored 13-3 in the series, and in Wednesday's finale they struck out 14 times in a 3-0 defeat
Minnesota held a players-only meeting after the game and only manager Rocco Baldelli addressed the media.
"We have to make some really, really legitimate adjustments to what we're doing right now if we're going to go out there, compete and win games against that team or any other team," Baldelli said. "I'm not really pleased right now with the effort this series. ... We have some work to do in this second half, because we can't play like this."
Minnesota left 20 runners on base during the series, went 0-for-23 with runners in scoring position and struck out 31 times. The Twins managed only four hits on Wednesday
"I'm hoping that me getting this (message) out, them getting it out as a group and feeling this together as a team, is what is going to help lead us to where we need to be," Baldelli said. "Beating around the bush, that's not doing any of us any favors right now."
Minnesota right-hander Pablo Lopez (3-5, 4.41 ERA) opposes Baltimore righty Dean Kremer (8-3, 4.50) in the opener.
Lopez is 0-2 with a 5.40 ERA in his past two starts. Last time out he gave up three runs on seven hits in six innings of a 3-2 loss to the Tigers. He tied his season high with 10 strikeouts and walked one.
The former Miami Marlin won his only career start versus the Orioles when he went five scoreless innings of a 2020 outing
Kremer is 2-0 with a 3.00 ERA over his past three starts while lowering his season ERA nearly half a run. Last time out he gave up three runs on five hits - three of them solo home runs -- in a season-high seven innings of a no-decision against the Mariners. He walked one and struck out five.
Kremer lost his only start against the Twins in 2021, allowing five runs in four innings
Baltimore, second in the AL East, has been treading water of late, going 6-7 since June 14. The Orioles rallied late against the visiting Cincinnati Reds on Wednesday before falling 11-7 in 10 innings as the Reds won the series
"We just came up a little short and just didn't quite get enough," Orioles manager Brandon Hyde said. "They just played a little better than we did tonight.
Adam Frazier homered and rookie Jordan Westburg and Adley Rutschman had two hits each. The Orioles tied the game with a three-run eighth in a bid for what would have been their 29th comeback win of the season
"I feel like, this team, there's no give up," said Westburg, who is 5-for-12 since being called up. "Going into the eighth, we could have easily thrown the towel in and just given up six outs and gone home. But we fought, scratched, clawed."
Cincinnati stole five bases against catcher Rutschman, who has thrown out just nine of 51 runners attempting to steal (18 percent).
--Field Level Media