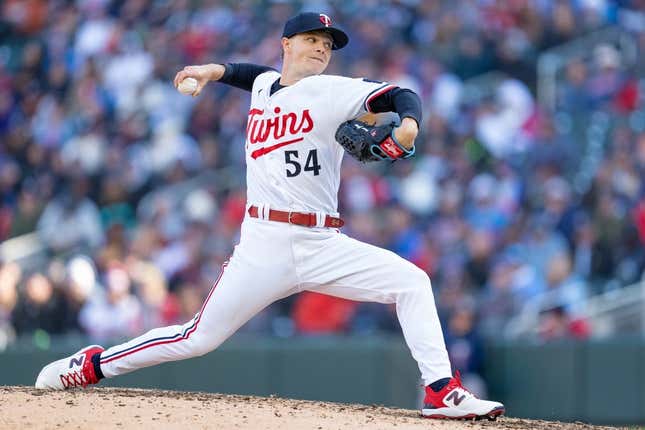 The rotation has been a major reason behind the Minnesota Twins' 7-4 start, and Sonny Gray is eager to continue the trend
Bass' ERA stinks, but not compared to who he is off the mound | Worst of the Week Countdown
Gray is set to take the mound on Wednesday when Minnesota plays the Chicago White Sox in the rubber match of a three-game series in Minneapolis. The Twins evened the series with a 4-3, 10-inning victory on Tuesday
Minnesota right-hander Pablo Lopez made his home debut in the victory and allowed two runs on three hits with 10 strikeouts over 7 2/3 innings. It was another strong showing by a Twins starting pitcher, as the rotation has a combined 2.59 ERA through the first 11 games
Gray (1-0, 0.75 ERA) is looking to build on a stellar outing against the Houston Astros on Friday, when he allowed one run on four hits with one walk and a career-high 13 strikeouts over seven innings.
"It's probably the best I've seen him spin the ball," Minnesota manager Rocco Baldelli said. "The reactions from the hitters, there were a lot of pitches that he threw that they missed by a lot and they couldn't even get a swing off on."
Gray, 33, owns a 4-2 record and a 4.47 ERA in 10 career games (nine starts) against the White Sox
Minnesota shortstop Carlos Correa has missed the past three games due to back issues and is listed as day-to-day.
"It's something he has been getting worked on," Baldelli said. "I don't see it being any sort of issue long term. I think he's going to be perfectly fine."
The Twins are hopeful that Correa could return to the lineup as soon as Wednesday to face White Sox right-hander Lucas Giolito (0-0, 9.00 ERA), who is set to make his third start of the young season
Giolito, 28, received a no-decision after allowing seven runs on a career-high 12 hits with no walks and three strikeouts over four innings against the Pittsburgh Pirates on Friday.
"They were just hitting the ball pretty well, soft contact, finding some holes then breaking it open with home runs, big hits, doubles, things like that," Giolito said. "I'll probably take a look at how I'm sequencing pitches, basic command of the pitches."
Giolito is 8-8 with a 4.16 ERA in 20 career starts against the Twins, including 5-2 with a 3.38 ERA in 10 career outings at Minneapolis
Minnesota outfielder Byron Buxton, who recorded his 100th career home run in Tuesday's game, has gone 2-for-15 with a homer against Giolito.
The White Sox are short-handed this series following injuries to shortstop Tim Anderson, third baseman Yoan Moncada and outfielder Eloy Jimenez. Anderson sprained his left knee on Monday and is expected to miss two-to-four weeks
Chicago manager Pedro Grifol is optimistic that both Moncada and Jimenez could return for this weekend's series against the Baltimore Orioles. Moncada hasn't played since Sunday because of a back injury, while Jimenez is on the injured list due to a hamstring ailment.
Grifol expressed confidence in the players filling in for the injured starters. Jake Burger started at third base on Tuesday, while Romy Gonzalez got the nod at second with Elvis Andrus moving to shortstop.
"Guys here are going to step up in absence of guys that are not in the lineup and help us win baseball games," Grifol said. "That's what depth does. This is where opportunity meets preparation, right? So if you prepared in the offseason, you've prepared in spring training, here's your opportunity. Go get it."
--Field Level Media