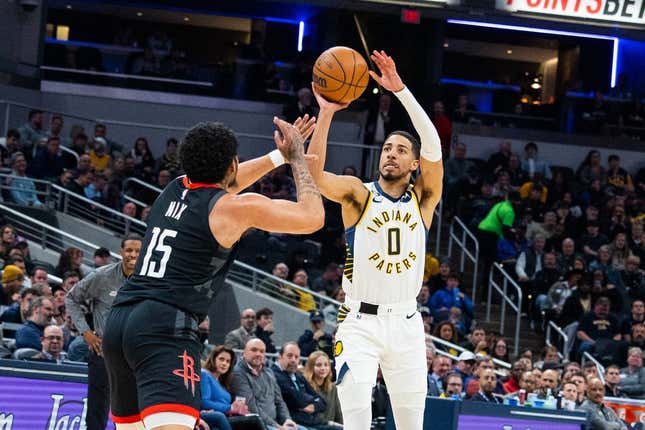 Tyrese Haliburton followed his first 3-pointer of the game with a driving dunk on the ensuring possession to carry the Indiana Pacers to a 134-125 overtime victory over the visiting Houston Rockets on Thursday.
How running an NFL team is like running a restaurant | Chef Emeril Lagasse
Haliburton scored 12 of his 29 points in the extra period. He added a career-high 19 assists and took over down the stretch after Myles Turner fouled out after posting 21 points and a season-high seven blocks for the Pacers.
Haliburton delivered a layup with 3:23 left in regulation that followed an Andrew Nembhard 3-pointer that gave the Pacers a 111-110 lead after the Rockets claimed their first lead with a 15-2 rally capped by a Jalen Green three-point play with 4:10 left.
Haliburton later sank two free throws that provided Indiana a 115-112 lead with 15 seconds left, but Rockets rookie Jabari Smith Jr. nailed a catch-and-shoot 3 with four seconds on the clock before Haliburton failed to get off a shot just prior to the buzzer, with that sequence forcing overtime. Smith finished with a career-high 30 points and added a dozen rebounds while Green scored 24 for Houston.
Jordan Nwora scored 18 off the Indiana bench, while Buddy Hield scored 17 points. Nembhard added 14 points on 6-for-7 shooting, T.J. McConnell scored 13 and Aaron Nesmith had 10 points and seven rebounds.
The Rockets amassed 82 points in the paint, surpassing 80 for the first time since 2014. Kenyon Martin Jr. chipped in 23 points for Houston. Alperen Sengun had 14 points and eight rebounds while Jae'Sean Tate added 13 and eight, respectively.
Indiana turned an 11-2 run midway through the first quarter into its first double-digit lead at 28-17, part of an extended surge that saw the Pacers push to a 17-point advantage on a T.J. McConnell corner 3 at the 3:19 mark at 34-17. Behind Turner (10 points) and Haliburton (seven assists), the Pacers shot 58.3 percent in the first period and drilled six 3s taking a 38-27 lead into the second.
When Turner scored with 5:16 left in the first half, Indiana led 56-38. But the Rockets came roaring back with a 20-6 run that came courtesy of their aggressive defense and attacks on the rim as Martin produced a layup and two dunks during that stretch. The Pacers needed a driving layup from Haliburton, just his second field goal of the half, to secure a 64-58 halftime lead.
The Rockets remained close by converting 12 offensive rebounds into 19 second-chance points prior to the intermission. When they made their run in the fourth, their defense made an impact.
--Field Level Media