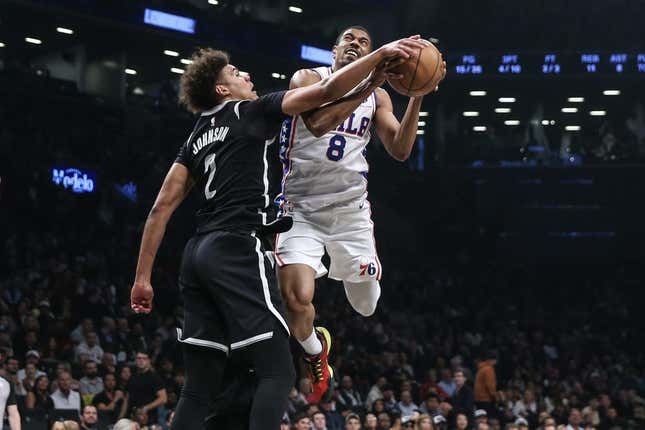 Tyrese Maxey scored 25 points, including the tiebreaking 3-pointer with 44.7 seconds remaining as the Philadelphia 76ers withstood the ejection of James Harden, a sluggish performance by Joel Embiid and outlasted the host Brooklyn Nets for a 102-97 victory in Game 3 of their Eastern Conference first-round series
Aaron Rodgers should go full Joe Namath | Comedian Bert Kreischer
The 76ers can eliminate the Nets Saturday afternoon in Game 4 thanks to Maxey, who followed up his 33-point performance in Game 2 by snapping a 96-96 tie
With 55 seconds left, Embiid missed a 17-footer but De'Anthony Melton grabbed the offensive rebound and was fouled by Dorian Finney-Smith with 52 seconds left. Following a Philadelphia timeout, Maxey went around a screen, took a step back along the left side and hit a 26-footer 3-pointer over Spencer Dinwiddie for a 99-96 lead.
After Maxey's shot, Dinwiddie split two at the line with 39 seconds left, and Maxey missed a 19-footer with 17.7 seconds left. Royce O'Neale grabbed the defensive rebound and Dinwiddie drove through the left side of the lane only to be met by Embiid, who blocked the shot with 8.8 seconds left.
Philadelphia iced as P.J. Tucker hit a free throw and Melton dunked with 5.4 seconds left after intercepting O'Neale's inbounds pass.
Harden scored 21 before being ejected for committing a flagrant two foul when he elbowed O'Neale late in the third quarter. Embiid finished with 14 and 10 rebounds and played the final five-plus minutes with five fouls after being allowed to stay in when he kicked Brooklyn's Nic Claxton in the groin area early in the first quarter.
Claxton dunked over Embiid to finish off an alley-oop from Mikal Bridges. As Claxton stepped over Embiid he was kicked in the groin area by Embiid's left foot
After reviewing the play, Claxton was handed a technical foul while Embiid was assessed a flagrant one foul.
Tobias Harris added 15 and Melton finished with 13 for the Sixers, who shot 48.8 percent.
Mikal Bridges led all scorers with 26 points but shot 9-of-26 and was 1-of-5 in the fourth when the Nets were held to 15 points. Dinwiddie added 20 for the Nets, who shot 43 percent and saw their postseason losing streak reach nine games
Claxton added 18 but was ejected for picking up his second technical following a dunk that put Brooklyn ahead 87-81 with 8:49 left.
Brooklyn overcame a 13-point deficit early in the third and took an 82-76 lead into the fourth. The Nets led 96-91 on O'Neale's putback with 2:15 left
Before Brooklyn rallied in the third, Philadelphia overcame an early eight-point deficit and held a 58-47 lead by halftime.
--Field Level Media