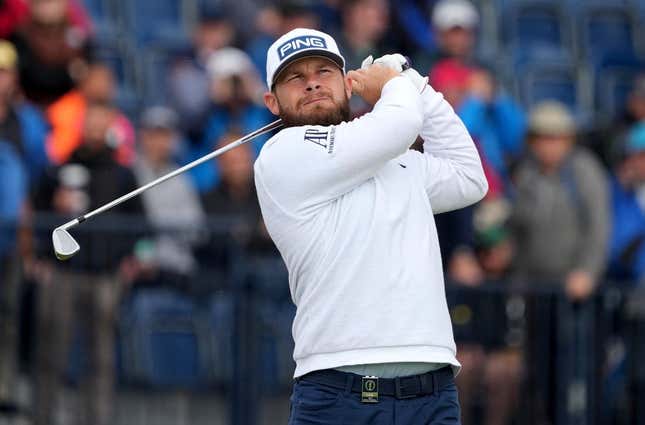 Tyrrell Hatton didn't have to sweat out making the FedEx Cup playoffs this year. The Englishman finished the PGA Tour regular season No. 17 in the points standings.
How running an NFL team is like running a restaurant | Chef Emeril Lagasse
But in the first year of a contracted playoff field — from 125 players in the FedEx St. Jude Championship last year to 70 this week at TPC Southwind — some notable names were left out. Justin Thomas finished the season at No. 71, the first man out; Australia's Adam Scott missed the playoffs for the first time since they were introduced in 2007.
It's made the FedEx Cup race more cutthroat, but players like Hatton felt it's still a fair size for the playoff field.
"Yeah, ultimately, it's still the (top 125 players) that keep status, though, right?" Hatton said Tuesday. "It's not given to you that you go out there and earn your spot to be here this week.
"If you haven't played well enough, then sure, that's frustrating and you want to be a part of the playoffs, but you've still got status for next year. You can still play your way into the elevated events. You still have the opportunities to be a part of it."
Sepp Straka, ranked 15th, of Austria chimed in with a similar takeaway, saying, "I guess other sports, everybody doesn't make the playoffs, either."
Hatton will finish at least in the top 50 of the FedEx Cup standings, which will assure him entry to the "signature" series of events with elevated purses in 2024.
"Fortunately for me this year, I've managed to play some good golf, and I've secured that," Hatton said. "It makes it a lot easier to certainly plan next year because you know you're going to be in the elevated events moving forward."
There are different ways to make sure you have enough FedEx Cup points to reach the playoffs. Little-known Mark Hubbard, for example, played in 31 events. Though he only finished in the top 10 five times, without a win, he racked up enough points to enter this week at No. 59. The sacrifice was precious little time off.
So Hatton was asked if he could picture himself taking just four weeks off all year.
"I can have some pretty good head-offs after having only three weeks off, so only having four weeks off over the course of almost a year, that would be brain damage to me," he quipped. "That's some serious commitment. There's a lot of miles being traveled, and I'm sure there's been some highs and lows in that period for sure."
The 31-year-old has won just once on the PGA Tour, at the 2020 Arnold Palmer Invitational, but he's ranked 14th in the world thanks to consistently strong finishes. Hatton missed one cut in 18 starts this year, had seven top-six finishes and won the tour's "Aon Risk-Reward Challenge" bonus of $1 million.
"This season has been great so far for me," Hatton said. "The only thing missing had been a trophy, but I guess I get to take this (Aon Risk-Reward) one home now, so that's a nice bonus."
—Field Level Media