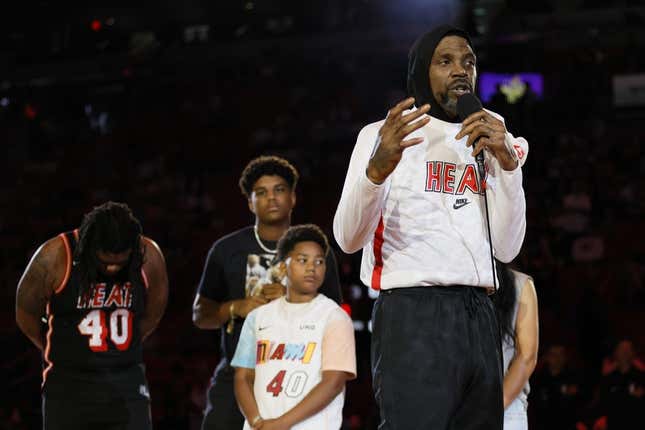 Long-time veteran Udonis Haslem scored a game-high 24 points in his final regular-season contest as the Miami Heat defeated the visiting Orlando Magic, 123-110 on Sunday afternoon in the regular-season finale for both teams
Bass' ERA stinks, but not compared to who he is off the mound | Worst of the Week Countdown
Both teams entered the game with their playoff fortunes predetermined. Miami will host the Atlanta Hawks on Tuesday in a play-in game. Orlando missed the playoffs for the ninth time in the past 11 seasons, including the past three straight years.
Kevon Harris led Orlando with 22 points.
However, both teams sat their leading scorers --Orlando's Paolo Banchero, who is the frontrunner for NBA Rookie of the Year, and Miami's Jimmy Butler. Banchero, who leads all NBA rookies in scoring, had back tightness. Butler was rested for the second straight game with the play-in round looming.
Banchero, 20, is less than half the age of Haslem, 42, who has announced his retirement. Haslem, a Miami native, played his entire 20-year career with the Heat, and he's the franchise's all-time leading rebounder, ranking second in games played
Besides Haslem, only Dirk Nowitzki (21 years with the Mavericks) and the late Kobe Bryant (20 years with the Lakers) played at least two decades with the same franchise. Nowitzki and Bryant were first-round picks and Hall of Famers. Haslem, in contrast, went undrafted.
Prior to Sunday, Haslem had played just six games this season, scoring a total of three points on 1-for-12 shooting.
On Sunday, however, he scored 13 points off the bench in the first quarter on 6-for-11 shooting, including 1-for-3 from deep.
For the game, he also had his first dunk since 2014, and he made more than one 3-pointer (3-for-7) for the first time in his career.
Orlando led 24-23 after one quarter, but Miami had a 52-50 advantage at halftime. There were eight lead changes and five tie scores in the opening 24 minutes.
There were eight lead changes and seven tie scores in the third quarter, with Orlando on top 85-84 entering the fourth.
The Heat, however, pulled away in the fourth
Haslem exited the game with 59 seconds left as the fans -- including ex-Heat star Dwyane Wade -- gave him a standing ovation
--Field Level Media