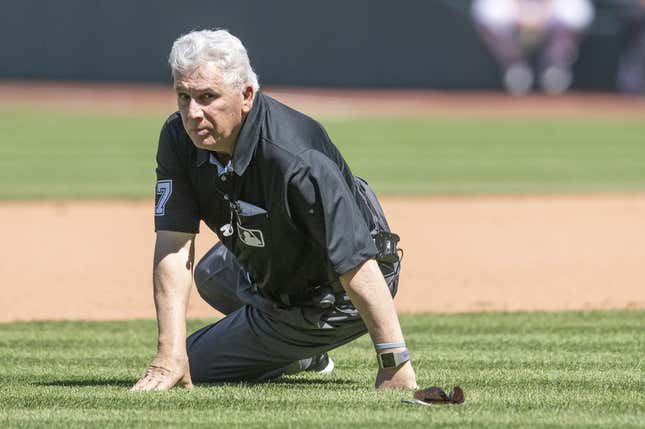 Second base umpire and crew chief Larry Vanover left Wednesday's game between the host Cleveland Guardians and New York Yankees after getting hit in the head by a relay throw
Vanover, 67, bounced back up after getting hit and was able walk off under his own power.
The incident happened in the top of the fifth inning of a game the Yankees won 4-3. Guardians shortstop Andre Gimenez was trying to make a relay throw home from short center field after a hit by Yankees catcher Kyle Higashioka
The ball caromed off Vanover and landed near first base as Isiah Kiner-Falefa scored on the play. Vanover was between the pitcher's mound and the second base bag when he was hit.
Gimenez was charged with an error on the throw.
There was no immediate word on Vanover's condition. The game continued with a three-ump crew. Vanover is in his 33rd season.
Vanover was the umpire who ejected Yankees manager Aaron Boone earlier in the game after an argument
That incident occurred in the bottom of the first inning when the umpires overturned a catch by Yankees outfielder Aaron Hicks. The original call of out resulted in an inning-ending double play
What's not clear is if Guardians manager Terry Francona requested a challenge in time or if the umpires reviewed the play and overturned the call without a challenge
The ball was touching the ground and obviously not a catch. The umpires got together and overturned the original call, which resulted in a run for the Guardians and inflamed Boone enough to get tossed
The delay lasted 10 minutes.
--Field Level Media