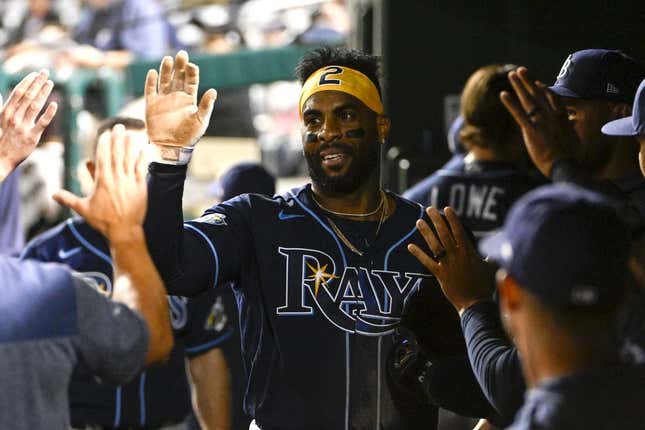 The Tampa Bay Rays will attempt to complete a three-game sweep of the host Washington Nationals when the teams face off Wednesday afternoon
Air Jordans are more American than McDonald's French fries | Deon Cole's Ultimate Sports Fantasy
The Rays have won their first five games of the season. They are the majors' only undefeated team after hitting three home runs in the top of the ninth inning Tuesday night for a 10-6, comeback victory over the Nationals
Washington has dropped four of its first five games.
The series finale will feature a matchup between the Opening Day starters for both teams.
The Nationals will send veteran left-hander Patrick Corbin (0-1) to the mound after he lasted just three-plus innings, giving up seven hits and four runs, two earned, in a 7-2 loss to the Atlanta Braves on Thursday. He walked three and struck out three
Shane McClanahan (1-0) counters for Tampa Bay. The left-hander struck out six on 87 pitches over six shutout innings in the Rays' season-opening 4-0 win over the Detroit Tigers. He allowed four hits and a walk
Corbin and McClanahan have each faced the team they will face on Wednesday just once in their career -- with both getting a no-decision on June 9, 2021. Corbin yielded three runs in five innings, and McClanahan surrendered three runs in three innings.
The 5-0 start is the best in Rays history, despite the team's remarkable consistency in recent years. Tampa Bay currently sports a major-league-leading, plus-26 run differential
Despite rosters that are constantly turning over, the Rays haven't had a losing season since 2017. They last missed the playoffs in 2018
On the other side of the field, the young, rebuilding Nationals are a far cry from the team Dave Martinez managed to a World Series championship against the Houston Astros in 2019
That team lost 31 of their first 50 games but came together behind stars such as World Series MVP Stephen Strasburg, Max Scherzer, Trea Turner, Anthony Rendon, Juan Soto and Ryan Zimmerman.
Strasburg is still a member of the Nationals but is on the 60-day injured list after a recurrence of thoracic outlet syndrome. Now 34, Strasburg has pitched only eight times covering 31 1/3 innings since the World Series championship
Corbin, 33, is coming off three straight losing seasons, including a 6-19 campaign in 2022. He led the majors in defeats and posted a 6.31 ERA.
Other than those two, only center fielder Victor Robles -- who had two hits and two runs in the Tuesday loss -- remains on the major league roster from the Nationals' championship team. Reliever Sean Doolittle, another member of the '19 squad, is rehabbing an elbow injury in the minor leagues
"We're a young team and we're going to have some growing pains," Martinez told Washington's WJFK Radio after the Tuesday game. "Guys have to get used to their roles and get used to pitching in these big situations."
Kyle Finnegan notched a save in Washington's only win of the season, a 4-1 victory over the Atlanta Braves on Sunday. However, with a 6-5 lead to protect in the ninth inning on Tuesday, Finnegan was victimized by the home run ball, as Luke Raley and Josh Lowe went deep back-to-back before Yandy Diaz piled on the misery with a three-run homer.
There had been speculation after the weekend that Martinez might consider swapping the role of setup man Hunter Harvey, who gave up a run to the Rays in the eighth inning on Tuesday, with that of Finnegan
Rays manager Kevin Cash said, "We've swung the bats really, really well. We'll take as much as we can get. But I think we're most encouraged about the young guys that are really doing some special things at the plate early on, Luke and Josh.
--Field Level Media