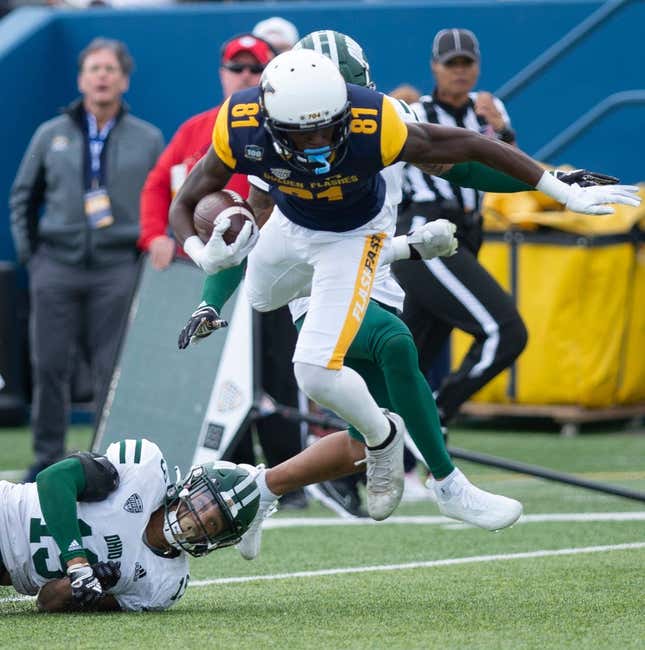 The NCAA denied North Carolina wide receiver Tez Walker's waiver for immediate eligibility, Tar Heels coach Mack Brown said Tuesday.
Is Texas or Florida State a bigger national title contender? | Agree to Disagree
Brown said the school is appealing the decision on Walker, a junior transfer who was being counted on as a top target for quarterback Drake Maye. Walker was named a preseason first-team All-ACC selection and is on the Biletnikoff Award watch list.
Walker played the past two seasons at Kent State, catching 58 passes for 921 yards and 11 touchdowns in 2022 while earning All-MAC honors.
Walker, a native of Charlotte, N.C., said in a statement released by UNC that he transferred because of the "stress and anxiety I was feeling of being away from home, while my grandmother deals with health issues.
"She is my rock, my everything, and I wouldn't be where I am today without her. She took care of me when I was younger and being away from her and the rest of my family was very challenging and hard to deal with. It's meant the world to us to be in the same area, where she's just a short drive away and I have far more opportunities to be with her."
The hang-up with Walker centers on him being a two-time transfer. He began his career at North Carolina Central but transferred to Kent State after the Eagles' 2020 season was canceled during the COVID-19 pandemic.
The NCAA recently voted to alter its rules, allowing immediate eligibility only after a player's first transfer.
Brown was asked Tuesday why Walker was not grandfathered in under the previous regulations, especially since he never played a down at NC Central.
"We can't answer that," Brown said, according to WCHL. "We feel that this should be a no-brainer."
Walker said he remains optimistic that the NCAA will reverse course and allow him to play in 2023. The Tar Heels open the season against South Carolina on Sept. 2 in his hometown of Charlotte.
"We're hoping the people making this decision realize the stress and anxiety that comes along with this and can provide a resolution quickly," he said. "I did everything within the rules to allow me to play this year, have clearly had some things happen that were out of my control, and have dealt with the mental anguish that comes along with all of it.
"I want this to be over. I want to stop feeling like this. I just want to play. I want my grandmother to come watch me. I want to be a student and an athlete and I hope those in charge give me that opportunity."
—Field Level Media