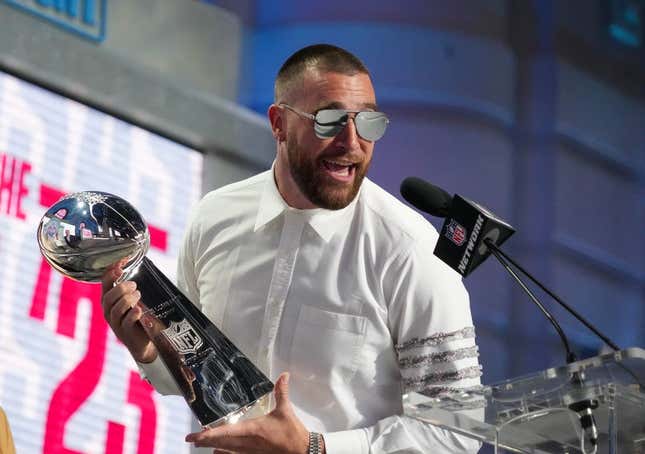 The Kansas City Chiefs' Travis Kelce is not getting paid like an all-world tight end, but the two Super Bowl rings more than make up for being the 52nd highest-paid player in the NFL this season
How running an NFL team is like running a restaurant | Chef Emeril Lagasse
"I love winning," the 33-year-old told Vanity Fair in an interview published Wednesday.
But it's not like he's unaware of one huge metric among NFL players -- the checking account.
"My managers and agents love to tell me how underpaid I am," Kelce said.
The four-time All-Pro is set to make a base salary of $11.25 million this season. His average annual salary of $14.31 million is third among NFL tight ends.
And while former teammate Tyreek Hill left the Chiefs last year to sign a four-year, $120 million extension with the Miami Dolphins, Kelce earned a second Super Bowl ring in February
"When I saw Tyreek go and get 30 (million) a year, in the back of my head, I was like, 'Man, that's two to three times what I'm making right now,'" he told Vanity Fair. "I'm like, 'The free market looks like fun until you go somewhere, and you don't win.' I love winning. I love the situation I'm in."
But with 10,344 receiving yards and 69 career TDs under his belt, in addition to leading the Chiefs in receptions (110) and yards (1,338) last season, one has to wonder
"You see how much more money you could be making and, yeah, it hits you in the gut a little bit. It makes you think you're being taken advantage of," Kelce said. "I don't know if I really pressed the gas if I would get what I'm quote-unquote worth. But I know I enjoy coming to that building every single day."
--Field Level Media