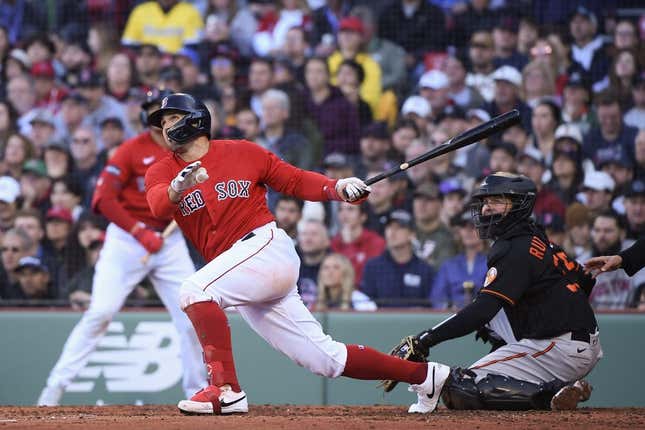 The Boston Red Sox have already shown great resilience two games into 2023
A pair of late-inning rallies have resulted in a win and a close loss, giving Boston the opportunity to win its opening series against the visiting Baltimore Orioles on Sunday afternoon
Aaron Rodgers should go full Joe Namath | Comedian Bert Kreischer
"That was crazy," manager Alex Cora said. "But like I've been saying, offensively, we do believe this is going to happen. We're going to move the line. We're going to keep grinding."
What was crazy was the end to Boston's 9-8 win on Saturday. It ended with a most improbable walk-off. A dropped fly ball offered on what should have been the third out offered the Red Sox a second life, and Adam Duvall took full advantage, socking a two-run home run over the Green Monster
The Red Sox overcame their largest deficit to win since 2019 after falling into a 7-1 hole after 2 1/2 innings
Led by Duvall (4-for-5, two homers, five RBIs), Boston tallied double-digit hit totals for the second straight game.
Boston pitcher Tanner Houck looks to pick up where he left off in 2022, setting career-high marks in wins (five), appearances (32) and saves (eight). He didn't pitch after Aug. 2 due to a back injury.
Houck, who has made three straight Opening Day rosters, will be in a full-time starter's role for the first time. He allowed three earned runs or fewer in 31 of his 32 outings last season, including all four starts.
Houck had a 9.74 ERA in 20 1/3 spring innings, saying that he felt off mechanically while working to add a cutter to his pitch mix. He is excited to be able to flip the switch in Boston.
"I know I can be a better pitcher than I've shown. And that's where I hold myself accountable," Houck said. "I'm frustrated with myself because I know I'm better. And I hold myself to a higher standard than that. So don't put too much stock into it because it's spring training."
Houck is 2-1 with a 1.84 ERA in five career outings (one start) against Baltimore.
Though the outcomes have been mixed, the Orioles put together consecutive eight-run performances
Adley Rutschman and Austin Hays have each gone 5-for-5. Hays did so on Saturday, contributing two doubles after a first-inning homer.
"We haven't pitched our best couple of games and we haven't played our best defense," Orioles manager Brandon Hyde said. "Happy with how we swung the bat. I wish we could have added on there in the middle-to-the-late innings.
Baltimore has also run wild on Boston catcher Reese McGuire, becoming the first team in MLB history to steal five bases in each of the first two games of a season, according to the Boston Globe.
After being acquired from Oakland in January, left-hander Cole Irvin is set to make his Orioles debut and his first career appearance in Fenway Park on Sunday. He was 9-13 with a 3.98 ERA in 30 starts for the A's in 2022
Irvin made a strong first impression with Baltimore this spring, pitching to a 3.14 ERA in 14 1/3 innings.
He has pitched twice against the Red Sox in his career, once as a starter in July 2021, when he went seven innings and gave up four earned runs, two earned, on five hits and two walks. He struck out five
In nine total innings against Boston, Irvin has no decisions and a 2.00 ERA.
"We've got some areas we need to clean up," Hays said. "It's been uncharacteristic so far. But it's got to be better, just to put it simply. We've gotta be better out there, and our pitchers are doing a good job. We've just got to pick those guys up."
--Field Level Media