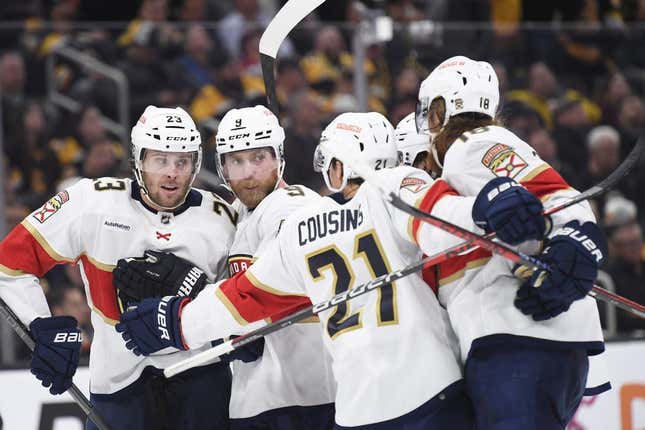 A second win in Boston allowed the Florida Panthers to "live to fight another day" in their Eastern Conference first-round series
Will South Beach Flu give the Heat home court advantage? | Keep it a Buck(et)
That is how forward Matthew Tkachuk described the team's mentality shortly after his overtime goal that decided Wednesday night's Game 5 and extended the series against the Presidents' Trophy-winning Bruins
The Panthers will get another chance to win at home in Game 6 Friday in Sunrise, Fla., and force an ultimate deciding contest two days later back in Boston
"We were supposed to get swept in this series, right?" Tkachuk said Wednesday. "I don't think anybody really gave us a chance after losing two games in a row at home."
Coach Paul Maurice and his team certainly believed, continuing to play the energetic, desperate hockey they had faced on a nightly basis for weeks just to make it to the postseason.
Sergei Bobrovsky stepped up with a 44-save performance in his second start of the series, and making the Bruins play from behind was a key to earning the 4-3 victory despite Boston holding a 47-25 shots advantage
"You learn as you go," Maurice said. "This was the fifth game in a row that I liked our first period an awful lot. ... (The Bruins) have the ability to (change the game quickly), but we've been so close to elimination from January on, we're pretty good at taking a few punches if we have to.
Tkachuk (game-winning goal, one assist) and Carter Verhaeghe (three assists) led the Panthers, who joined the 1977 New York Islanders and 1996 Winnipeg Jets as the only NHL clubs to beat a 60-win club when facing elimination
Boston accumulated the most regular-season wins and points in league history, so there is no shortage of confidence on the side of the series' unquestioned favorites.
However, the last two games played in Boston brought out uncharacteristic play. The Bruins hope to turn things back around in the Sunshine State, where they won both Games 3 and 4
"We're a confident team," Bruins forward Taylor Hall said. "We have to start on time. If we play like we did in (Wednesday's) second and third period right off the bat, it's going to give us the best chance at coming out with the series.
Captain Patrice Bergeron returned to the lineup from injury and scored a goal in his Wednesday playoff debut.
Fellow center David Krejci (upper body) will travel to Florida and has not been ruled out for Friday. He has missed the last three games.
Hall has stepped up and totaled a career-high five goals and eight points already during the playoff run. He has scored in four straight postseason games, marking the longest such streak by a Bruin since 2010.
Turnovers were a major factor in the Bruins falling short. Even the deciding goal was a direct result of goaltender Linus Ullmark failing to clear out a puck behind the net
"We tend to make big mistakes right now. I don't know why," Bruins coach Jim Montgomery said. "Last two games at home, we don't manage our ice or manage the puck. It's one of the two. ... When you're chasing the game like we did all night, you expend a lot of energy.
Boston has plenty of reasons for optimism, including that star winger David Pastrnak has gone two games without a goal and had just four shots on Wednesday.
However, Florida wants nothing more than to continue its hard-fought run and have a chance to pull off a Cinderella comeback.
--Field Level Media