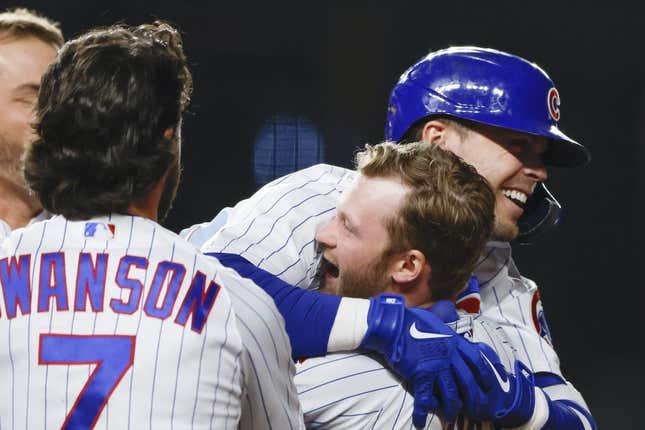 The Chicago Cubs have shown plenty of spirit through the early days of the 2023 season
Will South Beach Flu give the Heat home court advantage? | Keep it a Buck(et)
The Seattle Mariners already have experienced their share of frustrating moments
Following a walk-off win in the opener of a three-game series on Monday, the Cubs will try to hand the visiting Mariners a third consecutive loss on Tuesday night
Chicago beat Milwaukee to open the season, then lost three straight. Since then, the Cubs are 4-1 -- a stretch that included two seven-run victories, a 2-0 win and Monday's 3-2, 10-inning triumph over Seattle
Veteran additions Dansby Swanson (.333 batting average), Eric Hosmer (.320), Trey Mancini and Cody Bellinger are contributing, along with returning stars in Ian Happ (.333) and Nico Hoerner (.341), whose third hit Monday drove home the winning run.
All together, Chicago has shown signs of swagger and confidence not often seen while losing a combined 179 games the previous two years.
"The more you size yourself up against really good players, and teams. ... You see how you measure up," Chicago manager David Ross said.
"We've got a lot of guys that are up to the challenge on this team and are not going to back down from anyone."
The Mariners, though, have dropped seven of their first 11 games on this follow-up to the franchise's first playoff appearance in 21 seasons. Five of those defeats have come by one or two runs, and the past two in extra innings. Seattle had just six hits on Monday and is 4-for-23 with runners in scoring position in the last two contests
However, Jarred Kelenic has enjoyed a solid start for the Mariners. With his tying homer in the ninth inning Monday, Kelenic is 5-for-12 with three RBIs in his last three games
Scheduled Tuesday starter Chris Flexen (0-1, 3.00 ERA) began the season in the Mariners' bullpen, where he allowed a run over four innings during a 9-4 loss to the Cleveland Guardians on March 31. Then, when Robbie Ray suffered a flexor strain, Flexen was put into the starting rotation, where he allowed a two-run homer, one other hit and two walks over five innings of a 4-3 loss to the Los Angeles Angels on April 5
"I'm just falling right back into a role that I've been in before, and the job doesn't change," the right-hander told the Mariners' official website
He appeared in 64 games and made 53 starts during the past two seasons.
"Whether it's out of the bullpen or as a starter, it's to compete and win a ballgame and help the ballclub," he said.
Mancini, Hosmer and Swanson are a combined 6-for-15 vs. Flexen.
Chicago, meanwhile, will turn to right-hander Hayden Wesneski (0-0, 5.79), who got plenty of run support during its 12-5 win at Cincinnati on April 4, but the right-hander hopes for a more efficient outing Tuesday.
Against the Reds, Wesneski allowed three runs, six hits and two walks while striking out four through 4 2/3 innings.
"He'll be better," Ross said. "(The last outing was) probably not his best."
Wesneski has never faced anybody on the current Seattle roster.
--Field Level Media