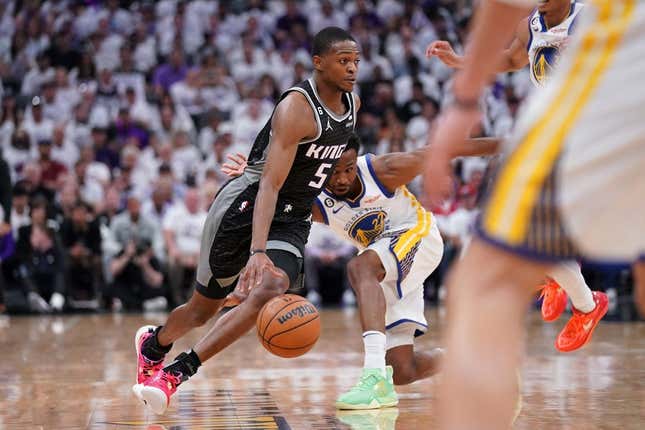 Two teams feeling pretty good about themselves will get little time to rest before meeting again when the Golden State Warriors and host Sacramento Kings continue their Western Conference first-round playoff series with Game 2 on Monday night
Are the Oakland A's a failed state? | Agree to Disagree
De'Aaron Fox exploded for 38 points, Malik Monk stunned the Warriors with 32 off the bench and the Kings survived two key misses by the Warriors in the final seconds to hold on for a 126-123 home win in Game 1 on Saturday night
Thrilling a crowd that had waited 17 years for a playoff game, the Kings won despite falling behind the defending champions by as many as 10 points, getting outshot 47.8 percent to 44.9 percent and being outscored 48-36 on 3-pointers
Sacramento prevailed thanks mostly to the clutch shooting of Fox, who made all three of his 3-point attempts and five of nine shots overall during a 15-point fourth quarter, and Monk, whose 8-for-8 free-throw shooting accounted for a majority of his 13 points in the final period.
They combined for 28 of the team's final 35 points.
Fox insisted the hometown fans were the difference in helping him and his teammates overcome a 30-point night from Golden State's Stephen Curry.
"Sacramento showed out tonight," Fox said. "But doing this for the fans, just knowing the way that they support this team through thick and thin -- really thin. It's just a testament to the way they are."
Domantas Sabonis, who struggled offensively on a 5-for-17, 12-point night, contributed a game-high 16 rebounds to the cause, helping Sacramento win the battle on the boards 50-41, including 17-9 on the offensive glass.
It almost wasn't enough. Andrew Wiggins, returning from a 25-game absence for personal reasons, had a chance to give Golden State a two-point lead with 10.3 seconds remaining but misfired on a 3-pointer from the left corner.
After Monk pushed the Sacramento advantage to three with a pair of free throws, Curry had a chance to send the game to overtime, but saw his good look at a straight-away 3-point attempt clang off the rim before time expired.
In the end, Warriors coach Steve Kerr had no complaints
"All in all, to come out here, 10-point lead in the second half, did plenty of good things, had a chance to win at the end -- I think we're in a pretty good place," Kerr said. "We just couldn't complete the game tonight, but it's a seven-game series, so we'll bounce back."
The loss was just the fourth in a Game 1 in the Kerr era as Warriors coach, during which the team has won four championships and made the NBA Finals on two other occasions
Kerr's Warriors rebounded to win Game 2 on all three previous occasions after an opening loss, and went on to win the series in two of the three, including last year's Finals against the Boston Celtics
Wiggins had 17 points and four blocks in his return, but he shot just 1-for-8 on 3-pointers.
Golden State has won at least one road game in an NBA-record 27 consecutive series.
--Field Level Media