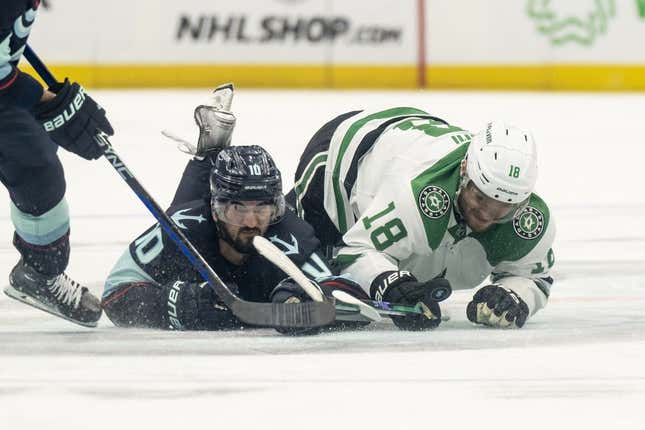 A trip to the Western Conference finals is at stake Monday when the Seattle Kraken visit the Dallas Stars for Game 7 of their second-round series
Bass' ERA stinks, but not compared to who he is off the mound | Worst of the Week Countdown
Given the back-and-forth nature of the series, it isn't surprising that the Kraken and Stars are headed to a decisive seventh game. Beyond just the three wins apiece, the two clubs are almost even in goals (Seattle has a 25-24 edge) and shots (Seattle leads 175-167)
Dallas took its first series lead with a 5-2 victory in Game 5 but couldn't close things out in Game 6 on Saturday. The Kraken scored two goals in each period of the 6-3 win
"We were ready (in Game 6)," said Kraken forward Eeli Tolvanen, who had a goal and two assists. "I felt like last couple of games they've been maybe that ready team from the start. I think that was the big key ... I think all four lines were ready to play and we showed up.
The problems started early for Dallas, as the Kraken held a 16-5 shots advantage and a 2-1 lead after the first period. Tolvanen and Tye Kartye then scored within the first five minutes of the second period, increasing Seattle's lead to 4-1
"We knew they were going to come out fast," Stars coach Peter DeBoer said. "Just didn't help ourselves, turned pucks over. When the other team's hungry like that in an elimination game and you're on the road, you've got to at least be the smarter team with the puck.
Stars goalie Jake Oettinger was pulled from the game after Kartye's marker, continuing the series trend of shaky goaltending on both sides. Oettinger and Seattle's Philipp Grubauer each have an .865 save percentage over the six games, with Grubauer's 3.78 goals against average only slightly topping Oettinger's 3.98 GAA
A return to form for either goaltender in Game 7 would be a huge boost for either team, particularly a Dallas club that thrived on defense for much of the season. The Stars are averaging 4.17 goals allowed per game during the Seattle series, after averaging only 2.62 goals per game during the regular season
Jordan Eberle leads the Kraken with eight points (five goals, three assists) in the series, while Joe Pavelski's nine points (eight goals, one assist) lead Dallas
Even though Pavelski missed five games of the Stars' first-round series with the Minnesota Wild, his eight goals have tied the NHL record for most goals scored in a postseason by a player who is at least 38 years old
At the other end of the spectrum is Kartye, as the 22-year-old forward has yet to play in a regular-season game. Making his NHL debut in the playoffs, Kartye has three goals and two assists over nine games for Seattle.
Kartye's breakout is perhaps emblematic of the Kraken as a whole, as few expected the second-year franchise to even reach the playoffs. Seattle already has collected a Game 7 triumph in the postseason after going on the road to eliminate the reigning Stanley Cup champion Colorado Avalanche in the first round
Dallas is looking to reach the conference finals for the second time in four seasons after it made it to the Stanley Cup Final during the 2020 playoffs.
--Field Level Media