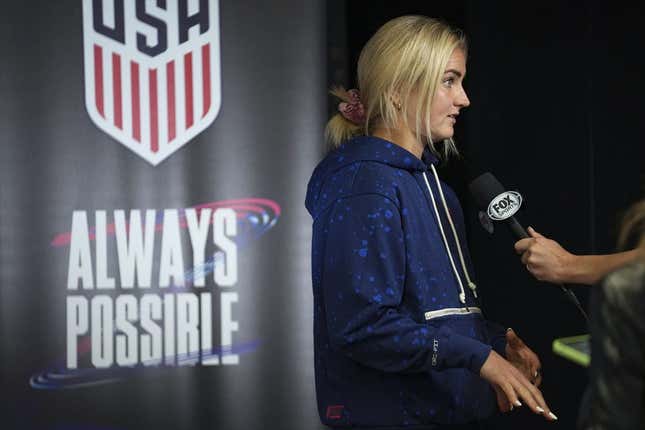 Exhibiting the type of confidence usually displayed by the two-time defending champion U.S. women's national team, Sweden is eager to take on the Americans in the knockout round of the Women's World Cup in Melbourne, Australia, on Sunday.
How running an NFL team is like running a restaurant | Chef Emeril Lagasse
The U.S. is coming off its fewest group stage points ever (five; 1-0-2) for second place in Group E. It was only the second time in nine World Cups the U.S. failed to win its group. The lackluster showing brought criticism for lack of focus, cohesion and creativity after the world's top-ranked team scored just four goals.
"For anyone to question our mentality hurts a little bit but at the end of the day it doesn't really matter, I don't really care," U.S. forward Lindsey Horan said. "We are going to move forward, it's a new tournament starting now, it's the knockout stages."
The third-ranked Swedes won all three of their Group G matches and defeated the Americans 3-0 the last time they met in a major tournament -- the Tokyo Olympics in 2021. They also tied the USWNT 0-0 in the 2015 World Cup and claimed a victory the following year on penalties at the Rio Olympics.
"We have played really good group-stage games, we have won all three of them, and we also beat them in the Olympics," Swedish forward Sofia Jakobsson said. "We are a confident team and looking forward to playing these games where it really matters and you have to win to move forward."
Added Sweden coach Peter Gerhardsson, "From a psychological perspective we know we can beat them. I think the players are convinced they can definitely win on Sunday and I believe that, too."
Because of yellow card accumulations, star U.S. midfielder Rose Lavelle is suspended against the longtime nemesis. This will be the sixth time the countries have met in the World Cup.
"I feel like it wouldn't be a major tournament if we weren't facing Sweden," Horan said. "We always find a way to play them in these big tournaments."
Sweden or the U.S. will play the Norway-Japan winner from Saturday in the World Cup quarterfinals on Aug. 11 in Auckland, New Zealand.
--Field Level Media