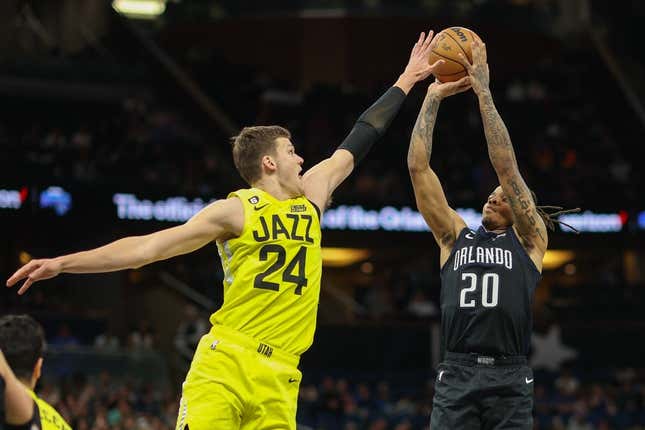 Kris Dunn scored 10 fourth-quarter points, Lauri Markkanen scored two of his game-high 31 points on a contested runner with 10.8 seconds remaining, and the Utah Jazz snapped a four-game losing skid with a 131-124 defeat of the host Orlando Magic on Thursday.
Is Texas or Florida State a bigger national title contender? | Agree to Disagree
Markkanen's big, late basket put a fitting exclamation point on Utah's 64-50 advantage in the paint. The score extended Utah's lead to two possessions at the end of what was a closely contested game throughout -- though the Jazz led for much of the time.
Utah built its advantage to as many as 15 points in the third quarter before a 29-10 Orlando run gave the Magic a lead at 93-89 with 2:34 left in the period. Though Utah fought back to lead by three at the end of the quarter, the Magic's efforts to whittle down the gap made for a tight fourth quarter in which the Jazz's lead never exceeded eight points.
Dunn, who went scoreless in the first half, was key to holding Orlando at arm's length in the fourth quarter. All of his made attempts in a 4-of-6 final period came in the paint.
Walker Kessler recorded a double-double of 13 points and 10 rebounds, five and two of which came on critical second-change opportunities down the stretch. The second, a successful and-one conversion, gave Utah a four-point lead 35.3 seconds remaining.
Paolo Banchero split a pair of free throws on Orlando's subsequent possession, giving the Jazz had the space they needed to put away the win.
Simone Fontecchio scored 17 points for Utah, leading the Jazz to a 40-26 advantage in bench points.
Three Orlando starters scored at least 24 points: Franz Wagner with 24, Markelle Fultz with 25, and Banchero with 26.
Banchero also grabbed a team-high eight rebounds in the loss. Jalen Suggs led the Magic reserves with 17 points, but finished just 1-for-5 from 3-point range. The Magic shot 16 of 34 from deep as a team, led by Wagner's 4 of 9 and Gary Harris scoring all 12 of his points on 4-of-8 shooting from deep.
--Field Level Media