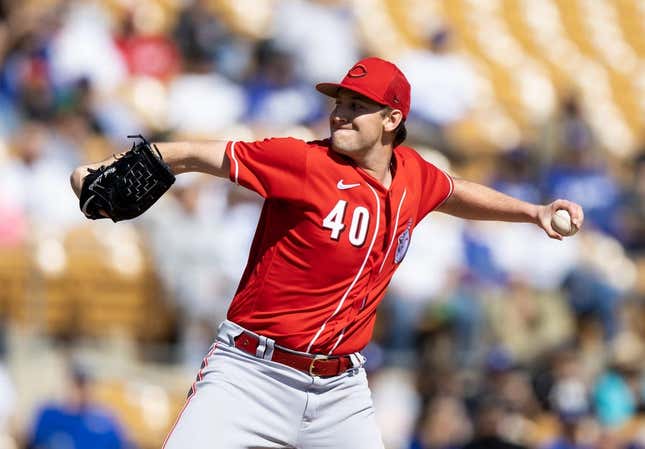 The Pittsburgh Pirates look to continue their recent dominance of a National League Central rival when they visit the Cincinnati Reds in the second of a three-game series Saturday afternoon
Can the Florida Panthers make a comeback? | Agree to Disagree
With Thursday's 5-4 win over Cincinnati, the Pirates have won eight straight over the Reds, dating back to last season, when they won the final seven games to win the season series, 12-7
The Reds will send left-hander Nick Lodolo (4-7, 3.66 ERA in 2022) to the mound in his first start of 2023. Lodolo will try to carry his strong performance in spring training into the regular season. The second-year starter went 4-0 with a 2.16 ERA in five spring starts
Saturday will mark just his second career appearance and start versus the Pirates. He suffered the loss in a 10-4 defeat on Sept. 14, 2022
In 2022, Lodolo hit 19 batters to lead the majors in that category.
While Lodolo is just in his second season at the age of 25, the Pirates counter with 43-year-old Rich Hill. The veteran lefty will make his Pirates debut Saturday
Hill (8-7, 4.27 in 2022) made 26 starts last season for the Boston Red Sox, marking at least 20 starts for the sixth time in his career. Hill is making his 13th career start against the Reds, carrying a 5-3 record and a 3.48 ERA against Cincinnati. He is 2-1 with a 2.45 ERA in five career appearances at Great American Ball Park
Hill was 0-1 with a 9.24 ERA in four starts during spring training. He enters the 2023 season ranked eighth among all active left-handed pitchers in strikeouts (1,294), eighth in wins (82) and ninth in innings pitched (1259).
Pirates phenom shortstop Oneil Cruz had a huge impact in Pittsburgh's season-opening win. The dynamic leadoff hitter belted a tape-measure home run to right to tie the game, walked twice, scored a pair of runs and drove in the game-winning run with an eighth-inning sacrifice fly to the opposite field
"He doesn't have to take full swings at times," Shelton said. "I think we can see that as strong as he is, as big as he is, the commitment to just shortening up and putting the ball in play. That's hard to do for a guy who's six-foot-seven with really long arms. But to be able to see that was really impressive."
Reds ace Hunter Greene suffered the club's first pitch clock violation Thursday. Greene was rolling with five strikeouts through two innings and had Cruz down two strikes after three pitches. Greene and catcher Tyler Stephenson couldn't get together on a pitch selection and Greene was charged a ball
Greene then missed the strike zone on the next two pitches before Cruz crushed a 101-mph fastball 425 feet halfway up the right field deck to tie the game 1-1.
"Tyler and I were going back and forth on signs. Didn't get to it quick enough," Greene said. "Hopefully it doesn't happen again. But it does happen. I feel like we're still in a really good place with making that adjustment on those new changes."
Greene insisted the pitch clock violation didn't distract his focus on the mound.
"It probably looked that way," he added. "For me personally, I felt like I was locked in the whole at-bat. Just a couple of pitches that got away from me. Overall, I was very present in that at-bat."
--Field Level Media