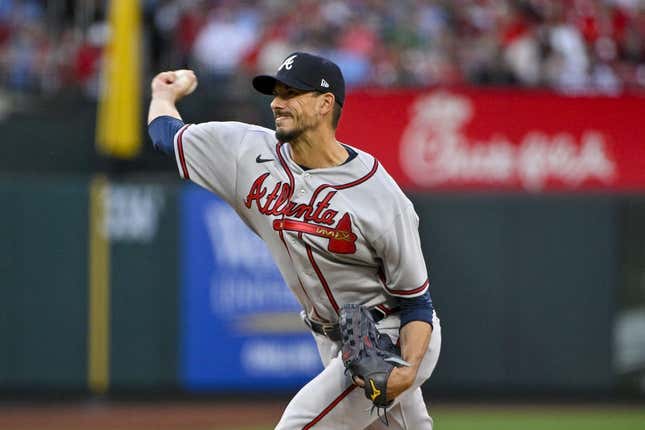 It's not yet mid-April and the San Diego Padres and host Atlanta Braves are locked in a four-game series that has the feel of fall
Air Jordans are more American than McDonald's French fries | Deon Cole's Ultimate Sports Fantasy
And now comes the threat of rain Saturday as a pair of right-handed veterans prepare to match up in Game 3.
Michael Wacha (1-0, 6.00 ERA) is scheduled to start for the Padres against the Braves' Charlie Morton (1-0, 5.06
Both teams have won a game in the series.
The Braves scored a walk-off, 7-6 victory on Thursday in their home opener. The Padres earned a 5-4 win on Friday when their bullpen turned in 4 1/3 scoreless innings. Through the two games, the two teams have combined to score 22 runs on 33 hits and 29 walks
"Hitters have been working the count," San Diego manager Bob Melvin said. "One of the goals early in the season is to drive the starter's pitch count up and get into the bullpen."
Braves manager Brian Snitker said, "We got a lot of runners on in the first two games. We've got to get more home.
Melvin added, "These are two good teams. There are no breaks at the top of either lineup, and there are players at the bottom of both orders who can do damage."
It will be the goal of both Morton and Wacha to control that damage on what could be a long Saturday night if the forecast is correct.
Wacha, 31, signed with the Padres as a free agent on Feb. 16, getting a one-year contract with player options for each of the next three seasons. In his team debut last Saturday, Wacha gave up four runs on six hits and three walks with two strikeouts over six innings yet emerged with an 8-4 win against the Colorado Rockies
The Padres hope Wacha can repeats his 2022 season with the Boston Red Sox, when he went 11-2 with a 3.32 ERA and a 1.12 WHIP over 127 1/3 innings in 23 starts
"It's a solid history," Melvin said of Wacha, who is 75-50 with a 4.06 ERA in 226 career outings (205 starts).
However, Wacha is 0-4 in his career against the Braves with a 5.23 ERA in eight games (six starts)
Morton, 39, will make his 325th career appearance on Saturday, his 324th start, and he is showing no signs of being too old. He was 14-6 with a 3.34 ERA in 33 starts in 2021. Last year, he finished 9-6 with a 4.34 ERA in 31 starts.
His first start of 2023 came Monday at St. Louis. Morton gave up three runs on nine hits and two walks over 5 1/3 innings and struck out one in Atlanta's 8-4 win.
Morton is 6-2 in 11 lifetime starts against the Padres with a 2.55 ERA and a .189 opponents' batting average. He worked 67 innings in those outings, during which he yielded just 46 hits and only two home runs while striking out 66 and walking 27
--Field Level Media