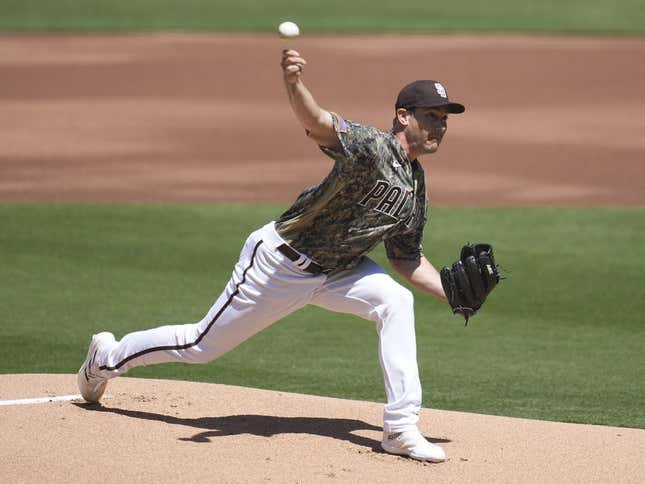 A tough schedule opening the season continues to challenge the San Diego Padres
Not only are the Padres playing 23 of the first 24 days, they're in the thick of a seven-game, cross-country expedition to National League East powers Atlanta and New York before returning west for a homestand with the Milwaukee Brewers and a visit from the Braves. The Padres finish the first month in Mexico City against the San Francisco Giants
Bass' ERA stinks, but not compared to who he is off the mound | Worst of the Week Countdown
"It's a tough way to start the season," Padres manager Bob Melvin said during the final week of spring training
But a silver lining is on the horizon.
San Diego goes into Sunday night's nationally televised series finale in Atlanta assured of a four-game split with a shot at winning the set after beating Atlanta 4-1 on Saturday.
"That was just an all-around good game for us," Melvin said. "We were aggressive. We played solid defense."
Right-hander Seth Lugo (1-0, 1.29 ERA) will start for the Padres against Braves rookie left-hander Dylan Dodd (1-0, 1.80) on Sunday night
Lugo's position in the Padres' rotation is interesting. The Padres signed Lugo as a free agent last Dec. 22 after the 33-year-old spent more than a decade in the Mets' organization -- seven seasons in all with the big league club. Had Lugo's start come a day later, it would have come against the Mets at Citi Field
In his Padres debut, Lugo held the Colorado Rockies to a solo homer by Ryan McMahon over seven innings. He allowed three other hits and no walks with seven strikeouts over seven innings while throwing 93 pitches
"You couldn't ask for a better first outing with a new team," Melvin said of Lugo's first outing in San Diego.
Lugo is no stranger to the Braves. Of his 276 career appearances, 27 have been against Atlanta, and he is 4-5 with a 4.06 ERA and a .255 opponents' batting average in three starts and 24 relief appearances. He has given up 49 hits and 15 walks with 49 strikeouts in 51 innings
Meanwhile, Dodd will be making his second major league start. Before the season started, Dodd was ranked the No. 10 prospect in the Braves' system, and on Friday, the Padres faced the No. 1 prospect in left-hander Jared Shuster
Dodd, the Braves' third-round pick in the 2021 draft, returned to Missouri -- he's a product of Southeast Missouri State -- for his MLB debut last Tuesday, holding the St. Louis Cardinals to one run on six hits and no walks with three strikeouts over five innings, earning the win. Just a year ago, Dodd went from Single-A to Triple-A in the Braves system
"I'm super excited," Dodd said going into his first start in Atlanta. "The last few weeks of spring training were stressful. Each start was the biggest."
Dodd had a 2.00 ERA over 18 innings in spring training.
"He was very impressive," manager Brian Snitker said. "He earned his spot, then he went out and proved he won it."
--Field Level Media