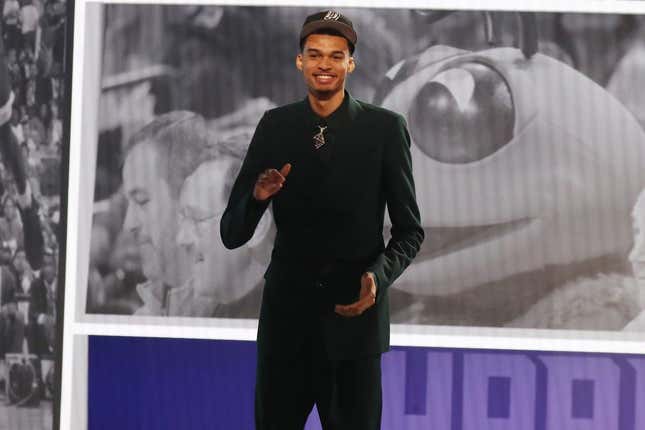 San Antonio was on Wemby Watch on Friday afternoon waiting for Spurs No. 1 overall draft pick Victor Wembanyama to arrive in town
How running an NFL team is like running a restaurant | Chef Emeril Lagasse
When the private jet containing the 19-year-old Frenchman arrived at a terminal on the fringe of San Antonio International Airport, chants of "Wemby, Wemby" and "Wem-VP, Wem-VP" broke out after he got off the plane.
Expectations are certainly as high as Wembanyama stands after the Spurs drafted the 7-foot-4 center in Thursday's NBA draft
"Things are very exciting. He's a very exciting prospect," Spurs forward Jeremy Sochan told reporters at the airport. "It's going to be a lot of fun. ..
"It shows how much love we want to show to him and that it's a family here and that he has nothing to stress about. It's going to be good."
Wembanyama is expected to become the third savior San Antonio picked with the No. 1 overall draft choice. The club previously hit the jackpot with the selections of future Hall of Famers David Robinson (1987) and Tim Duncan (1997).
The Spurs were only in position to draft Wembanyama because they were a woeful 22-60 last season and missed the playoffs for the fourth straight season
But they won last month's draft lottery to get the opportunity to select Wembanyama, who is expected to be an immediate difference-maker in the NBA. He has strong floor play, likes to shoot from outside and is effective in the interior.
And San Antonio fans are displaying their excitement as many waited Friday in near-100 degree temperatures for multiple hours just for a glimpse of the new center of attention. After Wembanyama emerged from the plane, he waved to the assembled fans and walked up to a fence and signed some autographs before getting in a car and leaving.
Wembanyama is slated to hold a press conference on Saturday.
"I can't speak for the city. I know how excited they are and how excited they were when we ended up with the first pick," Spurs coach Gregg Popovich said during a Thursday night press conference. "But the city has always had a love affair with the Spurs, so it doesn't change no matter who we pick or what year it is
"They've always been loyal, faithful fans who enjoy the Spurs and the players in return have always understood their responsibility to the city.
--Field Level Media