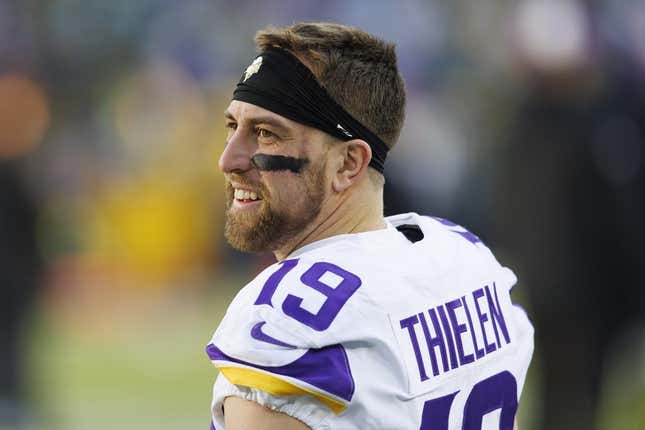 The Minnesota Vikings released wide receiver Adam Thielen on Friday after nine seasons.
How running an NFL team is like running a restaurant | Chef Emeril Lagasse
The 32-year-old Minnesota native and undrafted free agent from a Division II school became a two-time Pro Bowl selection and the third-leading receiver in franchise history.
Only Hall of Famers Cris Carter and Randy Moss caught more passes in a Vikings uniform than Thielen (534).
His release is a cost-cutting move for Minnesota, which will save about $6.4 million against the salary cap in 2023 while taking a dead-cap hit of $13.6 million.
"Adam will forever be a part of the Minnesota Vikings family and history," general manager Kwesi Adofo-Mensah said in a statement Friday. "Setting the standard with his play on the field, being a selfless teammate, and making a permanent impact in the community, Adam's influence is significant. We are grateful for everything he brought to the Vikings organization since arriving in 2013, and I'm thankful to have had the opportunity to work with him over the last year. He is the best representation of what the Minnesota Vikings should stand for."
Thielen signed a four-year, $64 million extension in April 2019, with the sides agreeing to restructure the deal in 2021 and 2022.
Thielen has 30 touchdown catches over the past three seasons, fifth-most in the NFL, and should generate interest in a relatively thin receiver market.
The Vikings first signed Thielen to a three-year, $1.485 million deal as an undrafted free agent out of Minnesota State in May 2013.
"Adam's story is one many know and admire and an incredible example of what a relentless pursuit of a goal can ultimately accomplish," Vikings coach Kevin O'Connell said in a statement. "For over a decade, Adam honed his craft to become one of the most well-recognized wide receivers in the NFL. Over that same time, he poured so much of his time into his home state, which made it even more special for him to earn our 2022 Walter Payton Man of the Year nomination. I personally leaned on Adam for his work ethic, leadership and counsel multiple times to help get our team where we wanted it to be last season."
Since making his debut in 2014, he has gained 6,682 receiving yards and scored 55 touchdowns in 135 games (101 starts) for the Vikings. He earned Pro Bowl honors in 2017 and 2018.
--Field Level Media