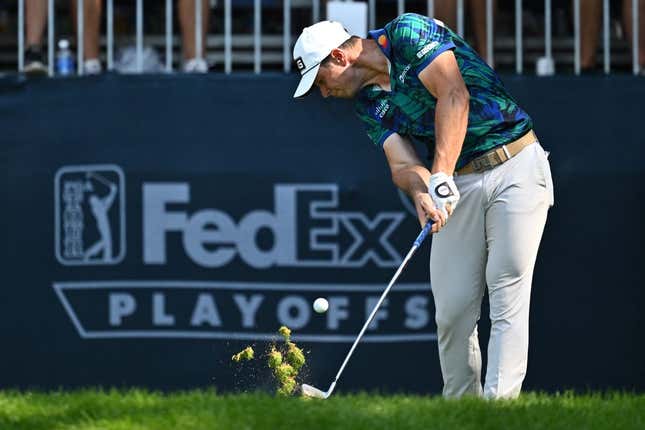 Viktor Hovland has no doubt about the key to success in this weekend's FedEx Cup finale at East Lake Golf Club in Atlanta: It's all about mental readiness.
Is Texas or Florida State a bigger national title contender? | Agree to Disagree
Using words and phrases including "introspection," "peace," changing "mindset things" and "overall confidence," Hovland talked about his preparation as he enters the Tour Championship trailing only Scottie Scheffler.
Hovland rallied last Sunday at the BMW with a 28 on the back nine, providing a major momentum boost.
"Yeah, obviously still excited from last week and kind of have to turn around pretty quickly mentally to get ready for this week," Hovland said Wednesday.
Entering his fourth Tour Championship, Hovland's best finish was a tie for fifth in 2021 and he believes he can summon a top performance over the East Lake layout, "one of my favorites," he said.
"If you drive it well off the tee and you hit the ball well into the greens, you're really going to be able to separate."
Helping that separation is Hovland's improved perspective on his game - "just more overall confidence, I think, more peace" - including his success in applying lessons learned when adversity strikes.
"Just my all around game feels a little bit more complete," he said. "I think just amassing really good experiences over the last year, being in contention, failing in contention, being in contention and succeeding in contention. ... I feel like I've used those opportunities to just get better the next time around."
The FedEx Cup rules award strokes to the leading players, so the starting positions this weekend are handicapped this way:
Scheffler will begin play on Thursday at 10 under; Hovland, 8 under; Rory McIlroy, 7 under; Jon Rahm, 6 under; Lucas Glover, 5 under.
The remaining 25 players in the field are set in groups of five, with one-shot intervals from 4 under down to even par.
Hovland says beginning just two shots off the lead rather than 10 shots down certainly makes a difference.
"You don't feel like you have to get off to a fast start," he said. "You can just kind of play your game and if you make six, seven, eight pars in a row, you're not stressing out ... . So I think that kind of relaxes you a little bit."
Hovland also underscored the importance of not letting up, not overreacting and maintaining the mental edge.
"Obviously if I hit it in the water, that's a bad scenario," he said. "But you ... have a choice whether you want to react to that shot and make it affect the next shot or the next few holes, or you can use that motivation or energy into something better ... prevent it from going off the rails."
A Tour Championship would mark a career high point for Hovland, but his mental approach takes precedence as he aims to join an elite club.
"Yeah, it's a pretty good company or there's a lot of big names on the trophy. ... I mean, it's a very complete tournament to win," he said, adding that he hasn't thought about the picture too much.
"It's just kind of just trying to take care of one shot at a time and one day at a time and we'll see what happens."
After the BMW, the Norwegian allowed himself a "couple glasses of champagne" and some "peace" but quickly turned his attention to East Lake.
"It was awesome to win last week, but one of the bigger things with it as well is that I managed to put myself in a great spot for this week," he said. "So hopefully I can take care of business this week and I can kind of let the celebrations go a little bit longer after that."
—Field Level Media