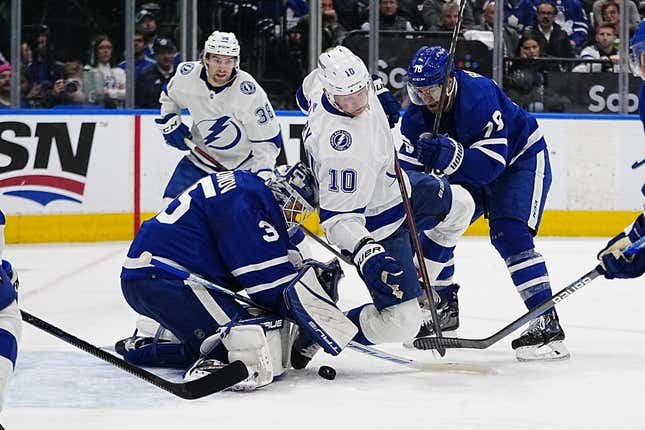 The visiting Tampa Bay Lightning can enhance an already favorable situation Thursday against the shell-shocked Toronto Maple Leafs in Game 2 of their best-of-seven Eastern Conference first-round playoff series
Air Jordans are more American than McDonald's French fries | Deon Cole's Ultimate Sports Fantasy
The Lightning stunned the Maple Leafs 7-3 Tuesday and can head home for Game 3 with no worse than a split
Tampa Bay led 3-0 after one period. Toronto closed to within 3-2 in the second before Tampa Bay capitalized on power plays to score the next four goals, two by Brayden Point.
The Lightning struggled late in the regular season, losing four of their last games
"We've known for a little while that this is the matchup we were going to have," said veteran forward Corey Perry, who had a goal and two assists in Game 1. "We had a tough March, a tough end of the season, but it's about the playoffs, and that's what we were doing. We're trying to get our game into shape to come in here and play.
"We know what we have to do, how we have to play as a team, and we did a lot of good things (Tuesday). But at the same time, we still have some stuff to work on."
Toronto coach Sheldon Keefe said Game 1 was atypical for his team.
"Some uncharacteristic goals there where we were loose around our net," Keefe said. "That's been a strength of ours all season long. ... Those two tap-ins we give there, that's uncharacteristic for us. (The Lightning) certainly won the battles around the net.
Toronto goaltender Ilya Samsonov allowed six goals on 29 shots over two periods and was replaced by Joseph Woll for the third. Keefe said Wednesday that Samsonov will start Game 2.
The Lightning have injury concerns. Defenseman Victor Hedman (undisclosed) left early in the second period and did not return. Forward Mikey Eyssimont was injured after taking an open-ice hit in the second period. Defenseman Erik Cernak did not return after taking an elbow to the head late in the second
All three did not practice with the team Wednesday, but Tanner Jeannot (leg), who has been out, did practice.
Lightning coach Jon Cooper said Wednesday that Hedman will be a game-time decision, Cernak and Eyssimont are out for Game 2 and Jeannot might play
On the play that injured Cernak, Toronto's Michael Bunting was given a match penalty that included a five-minute major for an illegal hit to the head.
Burning was to have a hearing with the league Wednesday to determine if he would be suspended.
Asked if he thought a suspension was deserved, Cooper said: "it seems to check a whole bunch of boxes."
"Bunts, to me, is trying to set himself up to win a race for the puck," Keefe said. "It got away on him. The guy wasn't expecting it. I am sure Bunts is expecting a battle in that situation, and he didn't get one."
The Lightning are trying to reach the Stanley Cup Final for the fourth consecutive season and win their third Cup in that span. They won it all in 2020 and 2021
The Maple Leafs are feeling the pressure of not having advanced beyond the first round of the playoffs since 2004
"We've been there before," Cooper said. "We've been down this road. To be honest, you embrace these moments, and the atmosphere at the beginning of the game, the anthems and the crowd going nuts, it's a wonderful experience. It's not something you should shy away from, and we talked to the guys about that."
--Field Level Media